The Blue Ridge Parkway, also known as "America's Favorite Drive" is 469 miles of winding roads through Virginia and North Carolina.  Shenandoah National Park borders the north end while Great Smoky Mountains National Park is on the southern end.
Folks can easily spend two full weeks or more exploring the parkway and the surrounding mountains, but what if you only have a couple of days?  Are you overwhelmed with where to even start?  How do you weed out the 'must do' from the hundreds of waypoints?
Here is a guide that gives you one itinerary with highlights to see starting from Cherokee North Carolina, the southernmost point, up to Moses H Cone Memorial Park, near the current road closure (as of May 4, 2018) due to rock slides.
Interested?  Read on!
Cherokee, NC
Cherokee, North Carolina is located at the intersection of US-19 and US-441 in Western North Carolina two hours south east of Knoxville, Tennessee.  It resides in the Eastern Cherokee Reservation with the Great Smoky Mountains National Park to the north and the Nantahala National Forest to the south.
The town is home to the Oconaluftee Indian Village, modeled after the 18th century Cherokee Nation lifestyle, providing live demonstrations and a theatrical performance "Unto These Hills" in the outdoor Mountainside Theater.  If you arrive the day before, definitely check these out.
While you're in town, get your own authentic Cherokee artwork by visiting Qualla Arts and Crafts or the Islands Park Art Market.  And don't miss an experience of the 11,000-year-old Cherokee culture through an interactive story in the Museum of the Cherokee Indian.
If you're hungry, grab some homemade food with down-home southern hospitality from family-owned Front Porch Cakery & Deli in Cherokee – hours 10am-5pm, closed Sundays.  Purchase some snacks, maybe a picnic lunch, and bring plenty of water (refillable water bottles are great!).
The Beginning (actually end) of the Blue Ridge Parkway
The Blue Ridge Parkway ends north of Cherokee just off US-441.  Stop in at the Oconaluftee Visitor Center and pick up a map.  This visitor center is technically a gateway into Great Smoky Mountains National Park, but also serves as an end point for the Blue Ridge Parkway.
Before you officially start your Blue Ridge Parkway journey, drive up and see Mingo Falls.  A short ½ mile hike to one of the tallest waterfalls in the Southern Appalachians.  After enjoying the beauty, head back to mile marker 462.1 and begin you adventure!
The First 100 Miles
As you start your drive on the Parkway, you will notice that there are a lot of overlooks/waysides.  In fact, there are over 280 designated overlooks along the route.  However, only about 50 of them are still worth stopping at due to overgrowth that blocks the views.  I'll point out the best ones that will be worth your while.
Drive your first 35 minutes and take a 1.5 mile detour on US-19 S to view Soco Falls.  It's an easy 5-minute walk to a viewing platform to see a breath taking double waterfall that most people miss.
Get back on the road and stop at Watterock Knob Overlook (Milepost 451.2), the Parkway's highest visitor center.  It has restrooms, exhibits, books for sale, and panoramic views of the surrounding area.  There is a short 1.2-mile roundtrip hike to the summit where you can see 50 miles on a clear day.
The next overlook that you should stop at is the Richland Balsam Overlook (Milepost 431.4), the highest point on the parkway.  This overlook gives you views of the Cowee Range, Nantahala Range and Plott Balsam Range.
Continue down to the Haywood-Jackson Overlook (Milepost 431) and hike the Richland Balsam Trail, a 1.5 mile moderate loop through a mossy, spruce-fir forest to the summit and back.  It's recommended to take the trail in a counterclockwise direction for the best views.
At Milepost 430.7, you can stop at Cowee Mountain Overlook for an uninterrupted panoramic view of the mountains and then continue down to Devil's Courthouse, milepost 422.4 where you can take a 1-mile loop trail to the top.
The next overlook you need to see is Graveyard Fields Overlook at Milepost 418.8.  This busy overlook has restroom facilities and offers a hike where you can see an unusual mix of forest, shrub, wetland vegetation, wildflowers, and mountain berries as well as three waterfalls.
The Looking Glass Rock overlook provides a great view of Looking Glass Rock, one of the largest masses of granite in the Eastern United States that reflects sunlight on its surface when it's wet.  It's at Milepost 417.
The last overlook on this leg you should stop at is Funnel Top Overlook at Milepost 409.3.  This overlook gives you one of the broadest views of the mountains and a view of Funnel Top Mountain.
From here, you'll head into Asheville, a great place to spend the rest of the day and overnight.
  
Asheville, NC
Biltmore Estate
In Asheville, you need to stop and see the Biltmore Estate, an 8,000 acre private estate originally created in the late 1800's by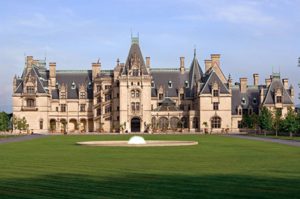 George Vanderbilt II, youngest son of William Henry Vanderbilt.  It consists of the 250-room chateau, beautiful gardens and grounds, a historic winery, shops, restaurants, and a farm in Antler Hill Village, as well as outdoor activities such as hiking, biking, horseback riding, carriage rides, and off-road tours.
Your daytime admission ($65) includes a self-guided tour of the house, gardens, Antler Hill Village, and a free wine tasting.  Other activities require additional money.  You can stay the night for $440-720/night during the summer months.
I recommend purchasing your tickets online and the following itineray for your ½ day visit:
While you're in Asheville, the other places you should visit include:
The Next 100 Miles
From Asheville, continue on the Blue Ridge Parkway 24 miles until Milepost 364.5 and hike the Craggy Pinnacle Trail.  A short, 1.4 mile round trip hike takes you through tunnels of rhododendron, gnarly sweet birch trees and wildflowers to the 5,892 ft summit of Craggy Peak.  At the top, you are rewarded with a 360-degree view that can't be beat.
From here, drive six miles off the Parkway to Crabtree Falls (Milepost 339.5) and hike the 3.5-mile loop to the waterfall and back.  Crabtree Falls is the highest vertical drop cascading falls east of the Mississippi River.
Next, drive up to the top of Mount Mitchell, the highest point east of the Mississippi River.  If you're lucky enough to do this on a clear day (eight out of ten days the summit is covered in clouds and fog), you will be treated to 360 degree panoramic views from the summit.
A little off the track, you can choose to enjoy lunch at Switzerland Inn, just off Milepost 334.  Eat inside with panoramic view windows or outside on the patio if the weather is nice.  You might want to try Diamondback Venom, a specialty drink named after the curvy mountain road that leads to the Inn.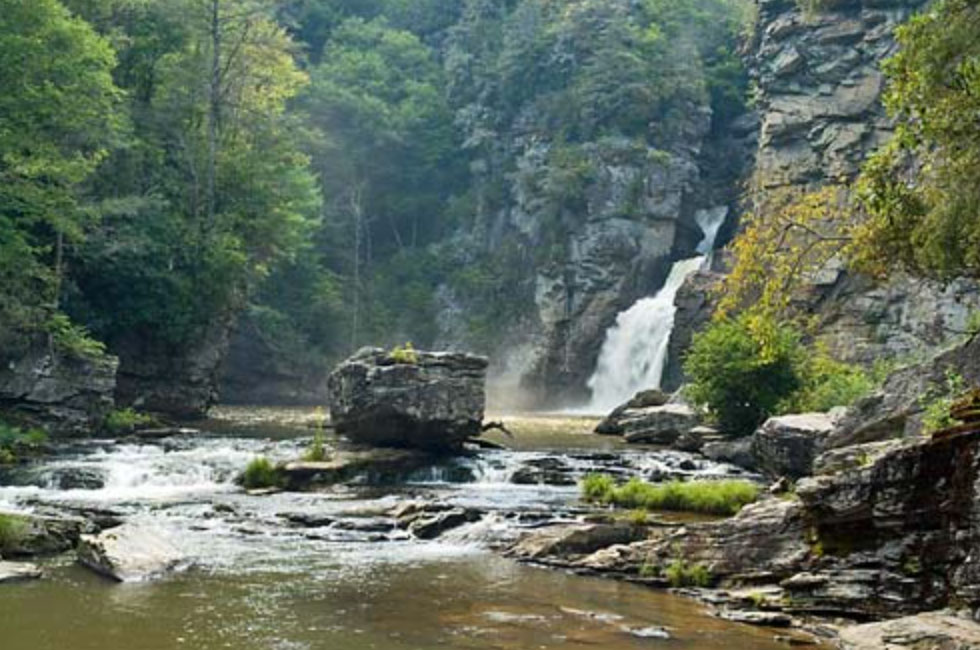 Linville Falls (MP 316.4) is another 'must see' waterfall that plunges three tiers into Linville Gorge, the "Grand Canyon of the Southern Appalachians".  It is very popular due to its accessibility and five trails that range from easy to moderate/difficult.  I recommend at least hiking the easy 1.6 mile Falls Trail and the 1.4 mile moderate Gorge Trail.
Continuing up the Parkway, don't miss the Mile High Swinging Bridge at Grandfather Mountain State Park (Milepost 305).  This 228 foot suspension bridge spans an 80 foot chasm at more than one mile in elevation and is America's highest suspension bridge.
Just a few miles down the Parkway, stop at Milepost 302.8 and hike 1.3 miles to take a picture of you and the Rough Ridge Rock – one of the most photographed icons of the Blue Ridge Mountains.  Don't stop at the boardwalk, continue on to the top to get the best views.
At Milepost 296.7, stop and take the 2.2 mile hike around Price Lake.  This loop is lightly trafficked, takes you through thick forest, and offers beautiful views of the lake.  A great way to wind up your day.
Just ahead, as of May 5, 2018, the Parkway is closed due to a rock slide.  So, here is a great place to either stay overnight or exit the road and head to historic Marion, VA where there are great restaurants and hotels to stay for the night.
I hope you enjoyed this itinerary and get a chance to try it out!  If you've been to the area and want to chime in or if I missed something on your 'must do' list, please let me know in the comments below!
Also – if you're looking for help planning a road trip on the Blue Ridge Parkway or your next great adventure, let us know by contacting us here!
As always, thanks for reading!
Kristi, aka The Trippy Tripster