The mountains of Southwest Virginia offer some of the most beautiful scenic byways in the nation.  Most motorcycle and sports car enthusiasts have heard of the Tail of the Dragon, an 11 mile limited access mountain road in Deals Pass, North Carolina, but it's cousin, the Claw of the Dragon in Virginia is often overlooked, but must be experienced!  Want to know more?  Read on!
The Claw of the Dragon is a series of scenic backroads in Southwest Virginia that loop through the Blue Ridge Mountain range.  Totaling over 350 miles of winding roads with undulations of elevations and hairpin turns, this route is fast becoming a favorite of motorcycle and driving tour lovers alike.
Just off Interstates 77 or 81, you will be driving through parts of seven Virginia counties and experience everything the Blue Ridge Mountains have to offer:  scenic views, mountaintop overlooks, historic main streets, old time mountain music, and local artistry.
Let's explore the main towns and 'must see' attractions of the area!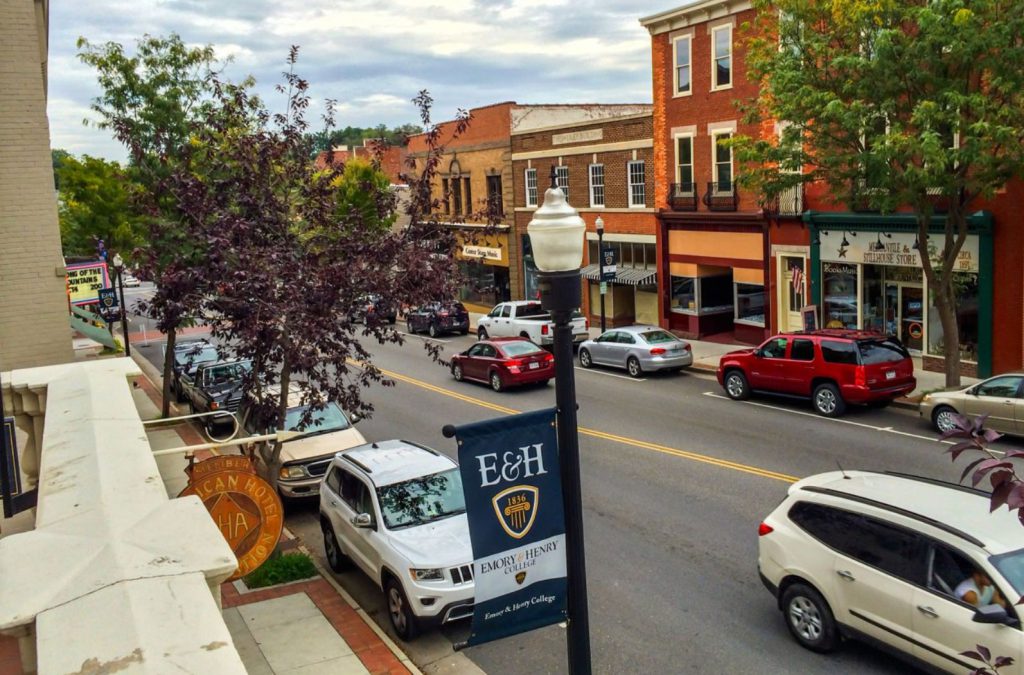 Marion, VA
Located just off Interstate 81, Marion, Virginia is one of those revitalized small towns that everyone needs to visit.  With moonshine, bluegrass, barbeque, art, craft-beer, local specialties and restored historic buildings all within walking distance, you are sure to find plenty to experience!
Appalachian Spirit Gallery celebrates the arts and culture of the Blue Ridge Highlands of Appalachia. The gallery showcases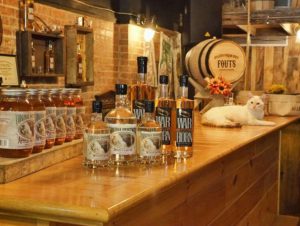 work by members of the Appalachian Spirit Artists Association as well as work by regional and local guest artisans.  Don't forget to see the model trains in the lower level!
If you can time your trip, shoot for the 2nd Fridays! Artwalk.  From Apr-Dec, the walk begins at Appalachian Spirit Gallery and meanders through downtown Marion, shops, restaurants, galleries, exhibits, crafts, and music.
The 1929 Lincoln Theater is one of those grand movie palaces of yesteryear.  Restored in 2004 and home to the nationally syndicated bluegrass music PBS television series "Song of the Mountains", it's one of only three remaining Mayan Revival theaters in America
Headspace Brewing Co. (opened in 2017, Marion's first brew-pub), has great local beer and Friday night music.  Enjoy craft-beer at this brewery with traditions of community, music, and successful collaborations.
You must try Wolfe's BBQ, a hometown favorite that serves up some of the best beef brisket you've ever tasted along with classic sides and homemade sauces.
Have lunch at the Wooden Pickle – tasty twists on American pub food with Music on Friday's and weekly/daily specials that are sure to tempt your taste buds!
Stop over at Sister's Café & Gifts for breakfast where the friendly staff and generous plates will start your day off right.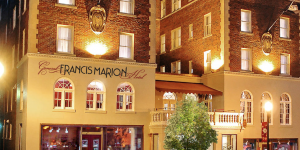 For another dinner option, check out The Speakeasy in the General Francis Marion Hotel for chef made meals – a 1920's themed gastropub inside the historic General Francis Marion Hotel.  The jazzy music, art deco paintings, signature 1920's drinks, wine selection, and gourmet pub food will make you want to come back every day.
If you have the chance, you will want to try the Harvest Table Restaurant.  A local farm-to-table experience in Meadowview, VA.
Stay at the 1927 General Francis Marion hotel, an affordable restored building with luxuriously-appointed rooms that are full of character.  It's one of National Geographic's top 150 hotels in North America!  Or, if you enjoy B&B's, the 5-room Collins House Inn may be just what you need to relax and enjoy the area.
Hungry Mother State Park
This beautiful state park, just north of Marion, Virginia, features a lake, a man-made beach, a restaurant, rental cabins and natural forest spread across nearly 3,000 acres. Hungry Mother has 18 miles of hiking trails, including Molly's Knob, a 3.4-mile out-and-back moderate trail that climbs to a 3270′ elevation for the best view in the park.
Back of the Dragon
A popular place to start your Claw of the Dragon adventure is the Back of the Dragon road, a two-lane ribbon over three

mountains between Tazewell & Marion, Virginia.
Thirty-two miles, 260 curves, and elevations up to 3,500 feet make this one of the premier riding roads in the nation! Ideal for sports cars or motorcycles, this road offers the most spectacular views you can find in the Appalachians.
Crossing three mountains, the Back of the Dragon offers curves, switchbacks, limited access and elevation changes that no other motorcycle route can offer. After becoming a Dragon Master, stop in a local dive for lunch or dinner and spend some time riding the hundreds of miles of great by ways Tazewell County has to offer!
You can purchase Back of the Dragon apparel at various places in Marion & Tazewell to remember your ride.  Watch for the yearly event held in June – Back of the Dragon Day.
Wytheville, VA
At the heart of the Claw resides Wytheville, Virginia, a charming town with a historic downtown district lined with shopping, museums, restaurants, cafes, pubs, and the famous "Wiffle Pops"  for homemade treats and coffee.
If you can make it here during the 8-day Chautauqua Festival, where the city showcases music, arts and hot air balloons, you're in for a great tim!  Each night features a different musical theme with performances from regional and national talent.  Bring a lawn chair or blanket and enjoy the free entertainment!
Enjoy the rustic charm of the historic 1776 Log House Restaurant.  Traditional, American cuisine served up in a two-story log home complete with oil-filled lamps, vintage photos, stone fireplaces, and old country atmosphere.  Open for lunch or dinner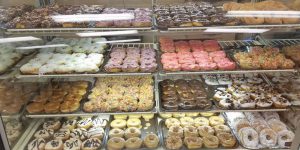 every day except Sunday.
Grab fresh, homemade donuts of all flavors and varieties at Olykoek Donuts!  With a mission to provide a warm family atmosphere where everyone feels welcome and leaves satisfied, how can you go wrong?  Definitely worth a stop!  Open 5:30am-5pm every day except Sunday.  Some donut varieties sell out early!
While visiting Wytheville, you might enjoy dinner and a show at Wohlfahrt Haus Dinner Theatre , a state-of-the-art German-themed dinner theater.  An in-house chef, comfortable lounge-style chairs, and Broadway caliber musicals offers a unique dining experience.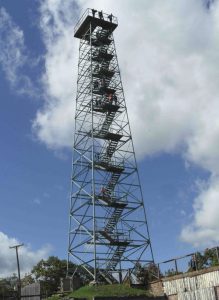 Take the challenging ride up Big Walker Mountain – 16-mile scenic byway.  Go up the 100 foot tower at the top, then enjoy a snack at the country store.  Take the short hike to Monster Rock to enjoy the vista.
Hike High Rocks Trail, a 2.7 mile moderate out and back trail at 2053 Broadway Rd, Wytheville.  Rocky climb up to beautiful views.
Visit the butterfly gardens, lavender, and walking paths at Beagle Ridge Herb Farm.  Reserve a 2-hour, 4-mile excursion through the area in their 6 passenger UTV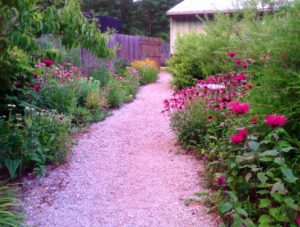 While you're in the area, if you love wine, don't miss these two wineries!  Check out the 100-year old oak bar, winery tours, gift shop at Davis Valley Winery & Vineyard.  Open 10am-5pm Mon-Sat, 12-5pm Sun. Then treat yourself to a tour, tasting and view at West Wind Farm Vineyard & Winery.  Open 11am-6pm Mon-Sat, 1pm-6pm Sun.
For the young, and the young at heart, enjoy a guided safari bus ride through the Fort Chiswell Animal Park.  45 acres of adventure, getting up close and personal with animals from six continents!  Open 10am-5pm weekends only in April, Sept-Nov.  Weekdays May-Aug 10am-4pm.
Galax, VA
On the Southeast side of the claw sits Galax, Virginia, a town steeped in the history of music.  It's home to the Old Fiddler's Convention, held 2nd weekend in August, giving it the title "World Capital of Old Time Mountain Music".  Explore it's quaint downtown and enjoy a craft beer at Creek Bottom Brewery.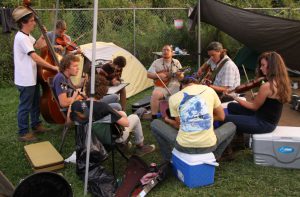 Every Friday night at 7pm, you can enjoy the Blue Ridge Back Roads music show in the historic 70-yr-old Rex Theater.  Tickets are only available at the door, except for some special events.
Take a class, browse the galleries, and purchase local art at one of the three locations for the Chestnut Creek School of the Arts.
If you're looking for award-winning barbeque, look no further than The Galax Smokehouse.  Open 11am-9pm Mon-Sat, 11am-3pm Sunday.  The town also hosts Smoke on the Mountain Virginia State Barbecue Championship each July
These are just some of the great towns and attractions in and around the Claw of the Dragon.  Spend a few days and explore deep into the culture and atmosphere of this beautiful countryside.  If you're looking for some more recommendations for a road trip here or your next great adventure, let us know by contacting us here!
As always, thanks for reading!
Kristi, aka The Trippy Tripster