Eating on a road trip can be challenging.  Especially if you want to eat healthy, not get bored, and stay on a budget.  If you're looking for some tips on how to keep it interesting, good for you and easy on the pocketbook, read on!
When you're eating on a road trip, there's snacks and there's meals, so let's break it down.
Snacks
Snacking on a road trip is important.  It alleviates boredom, helps keep you alert, and helps you make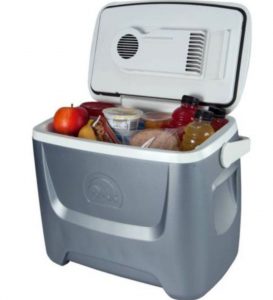 better food choices when you do stop for a meal.  And, if you have kids, teenagers, or men along – it is definitely a necessity!
Having snacks & water handy for those wayside hikes is also a good idea!
Homemade snacks are likely ideal, but there are a lot of pre-packaged alternatives that save on time and aren't bad.  Here are some suggestions – see this post for more.  Note that packing a thermoelectric cooler could be a great way to bring these snacks along.
Veggies and Fruit
Beef jerky & cheese sticks
Nuts & granola
Mini cookies
Fruit snacks, rollups, or dried fruit
Small crackers or popcorn
homemade muffins or bars
Water
Unique, local Restaurants
Discovering a locally owned, off the beaten path eatery is one of the fantastic things about road trips!  Often, they are one of the best values in town.  But, how do you find them?  There are mainly two ways.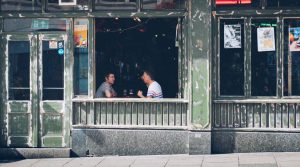 Research:  Do your research ahead of time.  This is more than Yelp or Tripadvisor.  The best local restaurants are not always the most popular or most recommended.  You will have to spend some time looking at Google Maps, reading reviews, looking at website 'About Us' sections, and then listening to your gut.  Usually, it's worth it.
Canvassing: Wait until you get somewhere and then ask the locals.  Don't ask the concierge service.  Instead, ask the gas attendant, ask the grocery clerk, ask the hotel staff.  But, ask them where they like to go eat when someone else is buying.  You will get different, better answers.  We have never been steered wrong and we've eaten at some pretty amazing places.
Local restaurants can provide insight into local specialties not available anywhere else.  Checking out the bakeries and sandwich shops is also a great way to pick up a quick meal or snack while supporting the local economy.
Picnics
We love to have picnic meals on our road trips.  There are usually some pretty amazing parks and scenic
views that offer a great place to stretch out, relax, and have a meal and it gives us a welcome break from the restaurant scene.
Rather than pack an elaborate meal that we need to prep and then put together, we'll usually stop at a grocery, deli, or farmers market the morning or day before and pick up just enough meat, cheese, and greens for sandwiches, pre-packaged salads (green or otherwise), crudités, chips, and drinks.
We may decide to buy a nice bottle of wine or a six pack of local beer to enjoy.  Or even a special dessert for this day, either at the picnic or an ice cream stop.  Don't forget bottle openers, forks, spoons, and napkins!
Cooking Your Meal
Cooking on the road may seem like a step too far, but really, it can work out pretty well.  You can either get lodging with a kitchenette, take an RV or camping trailer, stay at a cabin, use a roadside or park grill, or cook over an open fire at a campsite.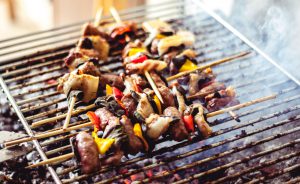 You can get as elaborate or as simple as you want.  Grilling your meat & veggies makes a wonderful meal.  Kabobs & tinfoil packets are a great way for an 'all in one' meal of protein & veggies without a lot of equipment.  There are a lot of recipes online to tempt your tastebuds!
Cooking with a portable camp stove is also an option for when fires aren't allowed and facilities aren't available.  If you purchase one, look for something that is compact, easy to use, and can make use of multiple types of fuel.  You'll also need a pot or pan to cook in.
Don't forget tongs & a couple hot pads.  I love the combination tongs with a spatula on one side and a 'grabber' on the other like these.
Chain Restaurants
Ok, ok, we all know why we go to chain restaurants.  They are predictable and many of them actually do serve good food.  Really, it's ok to go to a chain on a road trip.  Sometimes it's just the easiest thing to do when you've been driving all day and just want to eat.
Chain restaurants don't need to mean fast food.  But, even fast food can be acceptable in moderation.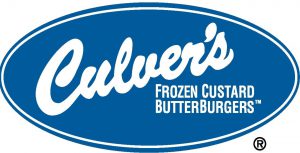 Especially if it's a fast food chain or restaurant that you don't have in your area (Culvers or In-N-Out Burger come to mind).  Trying out a regional favorite and anything that makes them unique (chicken and waffles anyone?) can be fun.
Whatever you decide to eat on your road trip, make sure you mix it up and have variety.  Many restaurant menus are similar, so try different cuisines or cultures while you're out and about.  Local specialties, especially seasonal ones, can be a great way to try something new.  Checking out local farmers markets can give you some insight and many provide tasty samples.
And don't forget!  Savor and enjoy what you eat!  Don't just eat for the sake of eating.  Instead, take your time to appreciate the aromas, the flavors, and the textures of what you put in your mouth.  Not only will your meals become part of your experience, your body will thank you.
Are you looking for recommendations for your next road trip?  Or maybe a customized day-by-day itinerary?  We'd love to help!
As always, thanks for reading!
Kristi, aka The Trippy Tripster!