If you ever find yourself driving from Los Angeles to Chicago (or vice versa or anywhere in between), you may wonder what to stop and see along the way or where to eat. There are actually several routes to choose from, but here are just 10 recommendations we have that might help you choose.
Zion National Park – Springdale, UT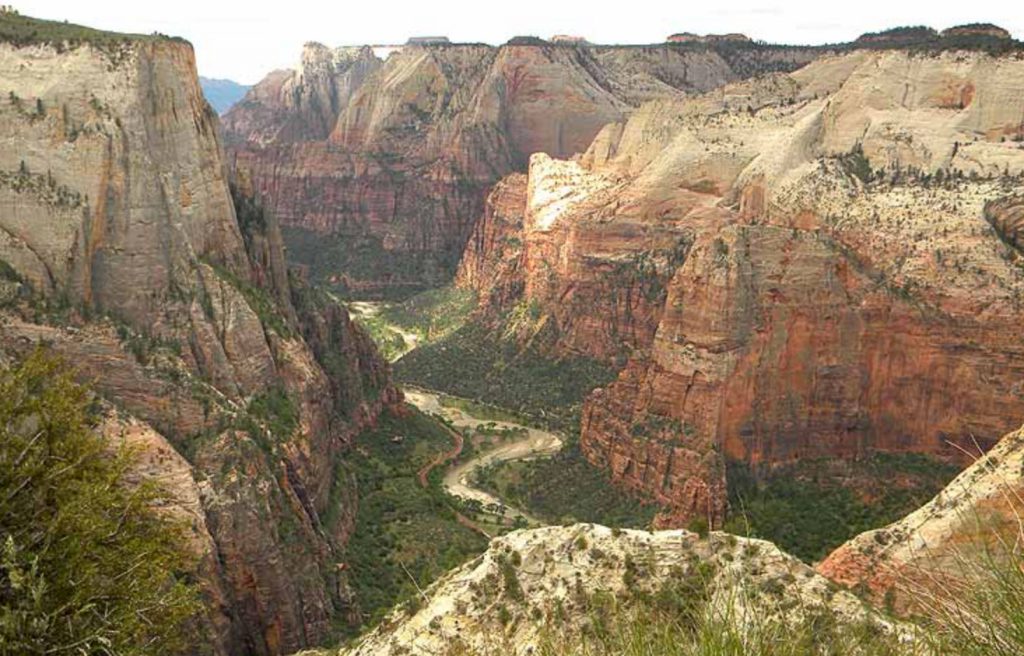 Zion National Park is Utah's first & most visited national park and consists of colorful Navajo sandstone canyons carved by the Virgin River, featuring hiking, museums, scenic views, streams, and waterfalls.
Hours: Visitors Center 8am-7pm (Late spring through summer), shuttles run 6am-9:30pm (see schedule)
Address: Zion Park Blvd, Springdale, UT
Cost: $30/car, $15/person, or use the National Park Annual Pass
Parking:  Lot at Visitors Center fills up by 8-9am.  You can also park in Springdale and take the free shuttle to the park
What to do:
Ride the free Zion Canyon shuttle in Zion National Park at the South Entrance
Recommended Easy (but busy) hikes:

Emerald Pools (1.2-2.5 miles round trip, 1.5 hours) – return to stop or take Kayenta Trail to the next shuttle stop
Weeping Rock Trail (0.4 miles, 0.5 hours)
Riverside Walk – on way to Zion Narrows (2.2 miles, 1.5 hours)
Canyon Overlook Trail is near east entrance (1 mile, 1 hour)
Wildcat Canyon Trail & Timber Creek Overlook (1 mile, 0.5 hour) in the Kolob Terrace area is much quieter – however it is closed due to construction as of May 1, 2018 for seven months.

Recommended Moderate hikes:

Watchman Trail (2 miles round trip, 2 hours) – most underrated, one of best places to watch sunset

Recommended Strenuous hikes:

Angel's Landing (3.5 miles round trip, 3-4 hrs)
Zion Narrows (2-16 miles round trip, subject to water levels)

Scenic Views: Checkboard Mesa, Court of the Patriarchs
The Wave – Kanab, UT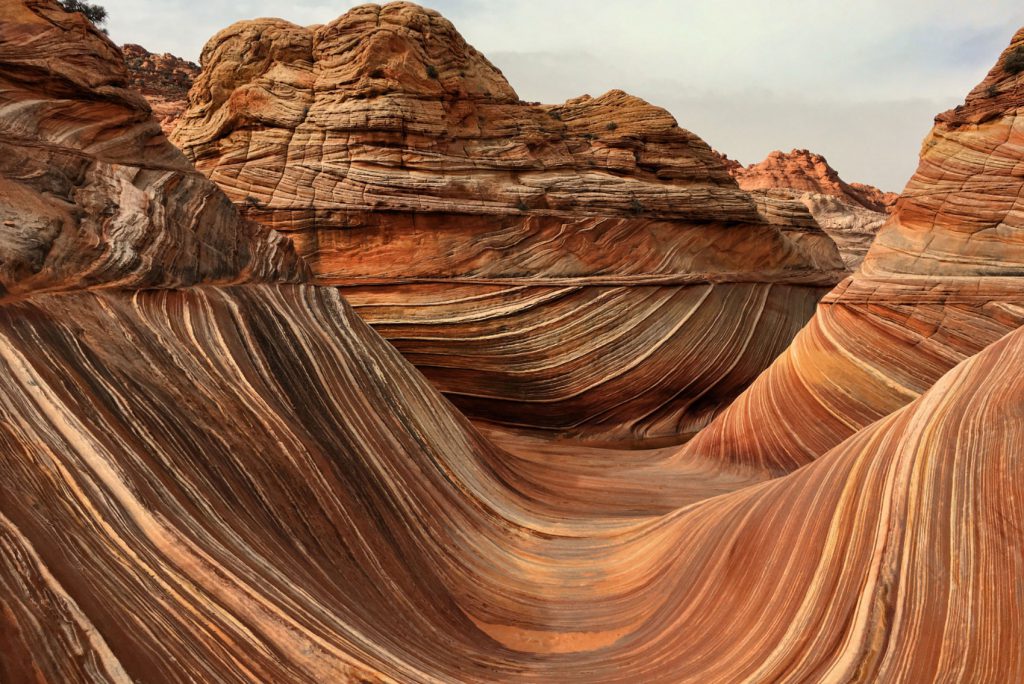 The Wave is a colorful sandstone rock formation on the slopes of the Coyote Buttes located at the border of Arizona and Utah near the town of Kanab, UT.  You must have a permit to be able to hike it and they are only available via a lottery system, both online and in person.  If you are in the area, it is worth a try to get a permit.  See this blog write-up for a great guide on how to see this amazing place.  Best odds are Sundays.  Use restrooms at visitors center & bring plenty of water.
Hours: Visitors Center 8am-4:30pm
Address: 745 E Hwy 89, Kanab, UT
Cost: $5/group application fee, $7/person entrance fee
Parking:  park at Wirepass Trailhead to hike to The Wave (5.6 miles round trip)
Peek-A-Boo and Spooky Slot Canyons – Escalante, UT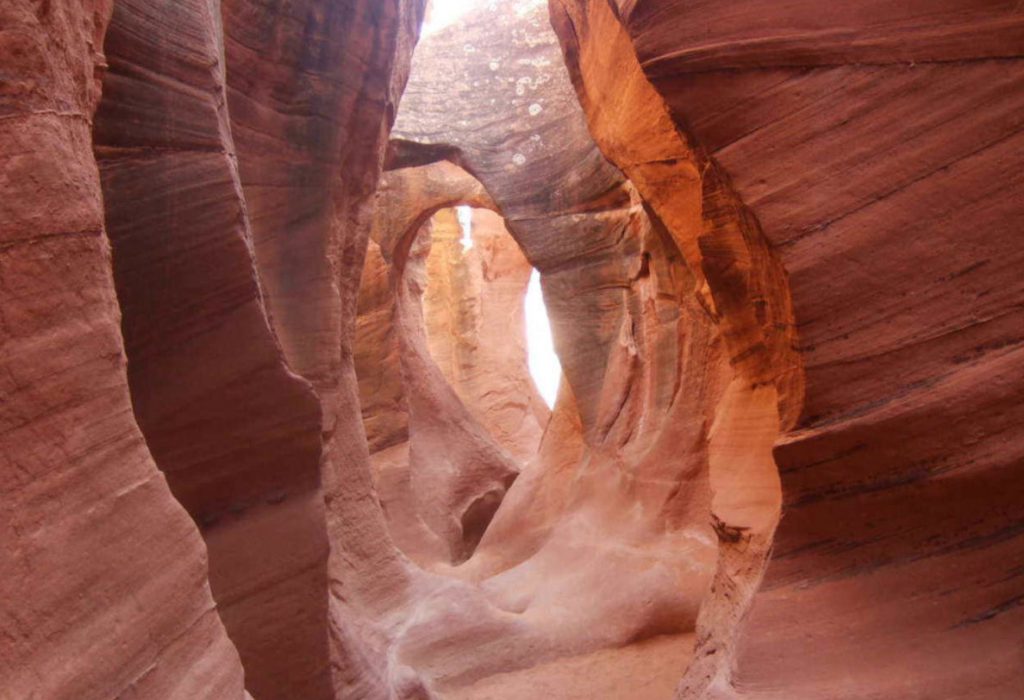 Peek-A-Boo & Spooky Gulches are moderate trails (3 miles combined) navigating through slot canyons (down to 10" wide).  It is best to check the weather ahead of time and not go if there is snow, ice, or a lot of rain.  You need to drive down a 25 mile unpaved road to get to the trailhead.  Print trail maps before going.  Start at Peek-A-Boo and back through Spooky.  There is usually water on this trail, so be prepared for that as well as some rock scrambling and narrow spots.  Use restrooms in Escalante and bring plenty of water.
If you want something easier, check out Escalante Natural Bridge trail (3.2 miles, moderately trafficked).  You will get wet on this trail.
Arches National Park – Moab, UT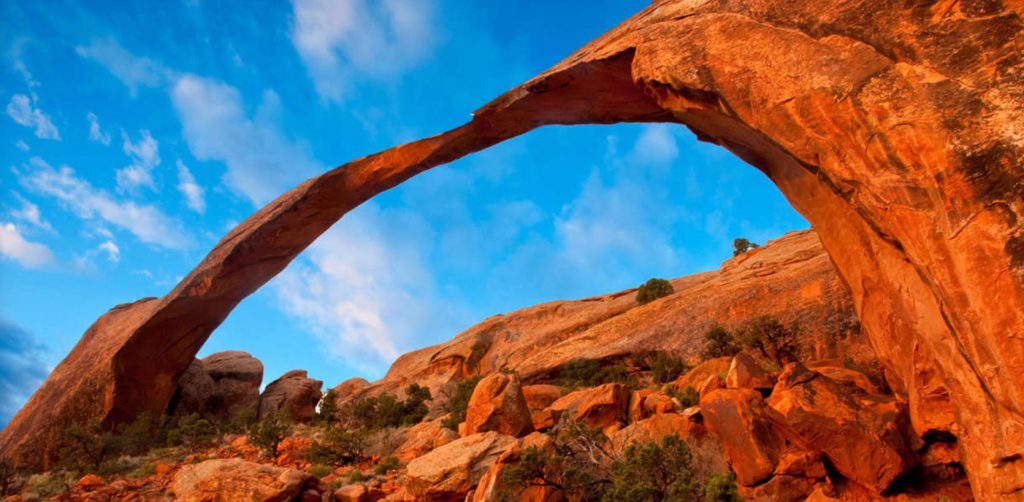 Arches National Park, northwest of the Colorado River, is home to more than 2,000 natural sandstone arches, the most famous being the reddish Delicate Arch.  It also includes hundreds of pinnacles, fins, and balanced rocks.  Take the scenic drive and hike to popular views.
Hours: Visitors Center 9am-4pm
Address: Moab, UT
Cost: $25/car, $10/person, or use the National Park Annual Pass
Parking:  Lot at Visitors Center and trail heads.  Plan to arrive early (7-8am) or late (3-5pm) for less congestion.
What to do:
Hike The Windows (1 mile, 0.5 hour), Broken Arch (1.3 miles, 1 hour), Delicate Arch (3 miles, 3 hours) & Landscape Arch (1.6 ,miles, 1 hour).
Take a ranger-lead tour of the Fiery Furnace if you're up for adventure.  Purchase online!
Starvin Arvin's – Clifton, CO

Nab a hearty breakfast and a huge cinnamon roll at Starvin Arvin's in Clifton, Colorado just off I-70 Exit 37.  Don't stop at the truck stop in Fruita, keep going!  Starvin' Arvin's was started in the 1970's by Arvin & DonEtta Leany and expanded into five locations with their oldest son.  It continues to be a family-run business with loyal employees and customers.  They use fresh Colorado ingredients and Wisconsin cheese to make all homemade dishes from recipes dating back to their ancestors.  They're most famous for their homemade cinnamon rolls and biscuits.
Hours: 6am-3pm every day
Address: 3247 F Rd, Clifton, CO
Prices: $5 – $13
Parking: Parking lot onsite.
Georgetown Loop Railroad – Silver Plume, CO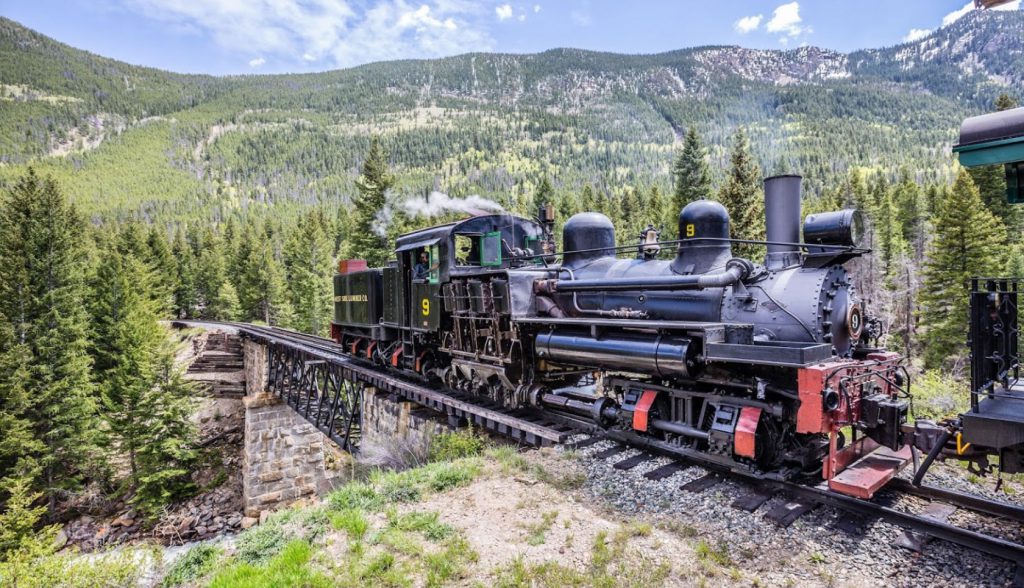 The Georgetown Loop Railroad and Silver Mining Tours is a family friendly attraction in the Rocky Mountains with a historic steam engine train ride on tracks dating back to 1884.  The 4.5 mile route includes horseshoe curves, up to 4% grades, and four bridges across Clear Creek.  There is also a walking tour of the Lebanon Silver Mine available where visitors can venture 500 feet into a 1870's silver mine half-way through the train ride.  The train offers three classes of service with snacks and beverages available in the upper classes.
Hours: trains run 10am-3:50pm from the Silver Plume Depot (recommended starting point)
Address:  825 Railroad Ave, Silver Plume, CO
Prices:  $26-$50 adults, $19-$40 children (3-15yrs old).  Purchase online!
Parking: Parking lot onsite at depot
Monument Rocks National Landmark – Oakley, KS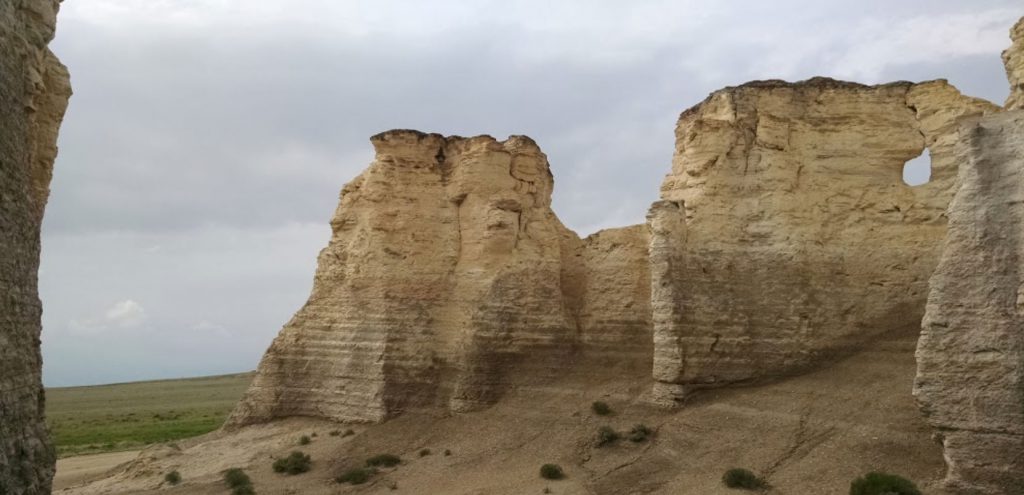 Just a short drive off I-70 at exit 70 (US-38 S), the Monument Rocks were one of the first National Natural Landmarks designated in the US.  Large chalk formations teeming with fossilized sea life rise up to 70 feet from flat farmland seemingly in the middle of nowhere.  View the sunset through the famous 'Keyhole', a large gap in one of the formations.  The Keystone Gallery is nearby offering fossils for exhibit and for sale along with art and other souvenirs of the area.  It's between the towns of Oakley & Scott City on US 83.
Hours:  Monument open 24 hours a day
Address:  Gove 16, Oakley, KS
Price:  free.  On private land, so please be courteous!
Parking:  onsite
The Cozy Inn – Salina, KS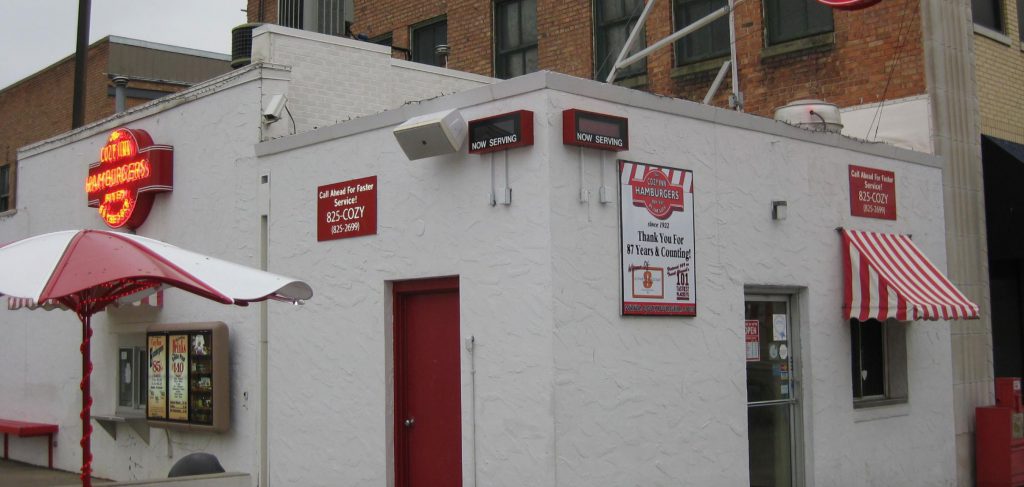 The Cozy Inn is a historic vintage style diner in Salina, Kansas.  It is one of the last remaining six-stool diners in America and offers up stacks of burgers, bags of chips, and sodas.  A 'one of a kind' place you just have to stop at as you're driving I-70.
Hours:  10am-9pm (M-Sa), 11am-8pm (Sun)
Address: 108 N 7th Salina, KS
Prices: $1.20 – $6.49
Parking: Lot next door and across the street
Gates Bar-B-Q – Independence, MO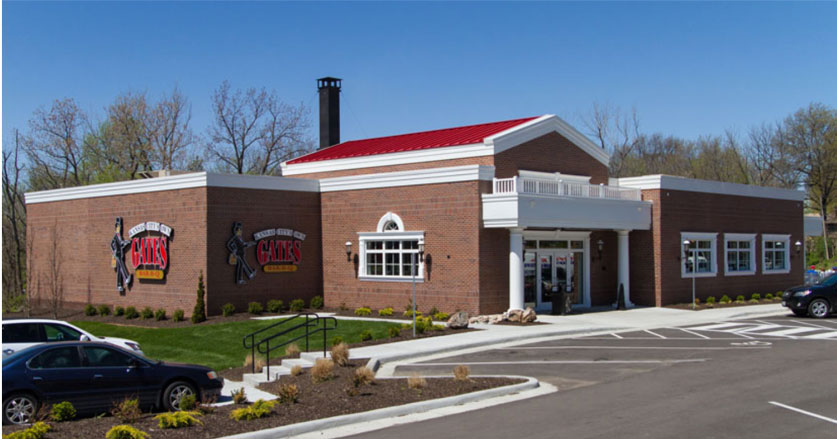 Since 1946, Gates Bar-B-Q is a family owned company and a Kansas City original with their unique red roof design and "Struttin Man" in full tuxedo and top hat. The connection of good food, fast personalized service and the immediate greeting, "HI, MAY I HELP YOU?" all act as their trademark.
Hours:  11am-11pm (M-Th), 11am-12am (F-Sat), 11am-10pm (Sun)
Address: 10440 E US Hwy 40, Independence, MO
Prices:  $11-13
Parking:  Parking lot
Rock Bridge Memorial State Park – Columbia, MO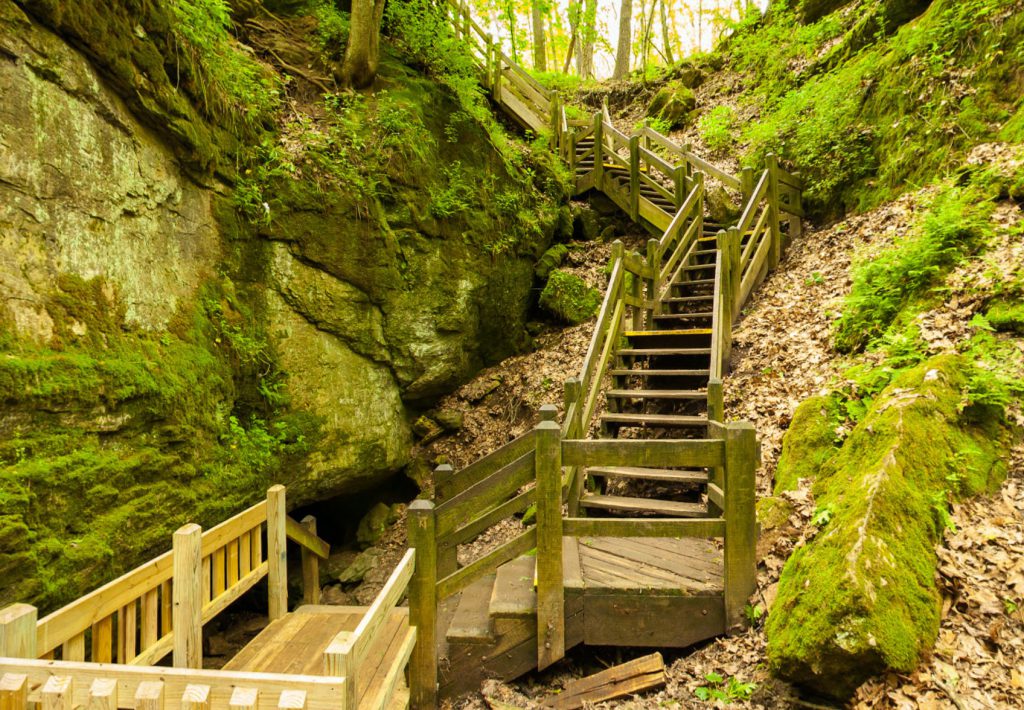 Stretch your legs at Rock Bridge Memorial State Park just south of Columbia, Missouri, Exit 124 off I-70.  Offering some of the best hiking trails in the state, it also has a large cave system to explore.  The Rock Bridge, Devil's Icebox, Connors Cave are a few of the highlights (and busiest), but all of the trails are worthy to try.  The park also includes picnic shelters and primitive camping sites.
Hours:  Sunrise to sunset; visitor center 9am-4pm (M-F) closed Noon-1pm
Address:  5901 S Hwy 163, Columbia, MO
Prices:  free
Parking: lots available
These are just 10 of the places you can stop and see or places to eat along the I-70 corridor between Los Angeles and Chicago.  If you're planning a road trip, there are plenty more!  If you'd like me to give you more recommendations, just go here!  If you'd like a day-by-day itinerary, go here!
We'd love to help!
As always, thanks for reading!
Kristi, aka The Trippy Tripster!