The Rocky Mountains are one of the world's longest mountain ranges, starting from Alaska down to Mexico.  Rocky Mountain National Park in Colorado preserves just a small, but important portion of this range.
With over 415 square miles encompassing mountains, forests, lakes, streams, and alpine tundra, you can easily spend weeks here and not see everything.  But, what if you only have one day?  In May?  Should you even bother?
My two adult daughters and I recently visited Rocky Mountain National Park while visiting the Denver area in May.  Read on to hear what we saw and experienced.  It may just convince you that even one spring day is worth visiting this amazing place!

Spring in RMNP – What to Know
Spring is amazing and unpredictable in the Rocky Mountains.  The temperatures can range wildly, from the 70's down to freezing levels – even in the same day!  Be aware of weather forecasts for the day you are visiting and be prepared!
Even on warm days, you will find snow – up to three feet in higher elevations!  Trail Ridge Road usually remains closed until late May, so you will be mainly exploring the east side of the park near Estes Park.  Old Fall River Road doesn't open until mid-summer.  Check here for latest road conditions.
Bring layers of clothing, be prepared to drive in snow (we rented an SUV), and wear appropriate hiking gear if you plan to hike.  This means boots and even cleats that you can rent in town – even for the 'nature trails'!  And, don't forget plenty of water & snacks!  This park is remote!
Our Morning Start – Boulder
We began our day in Boulder where we had spent the previous day and night.  We ate breakfast at the Village Coffee Shop –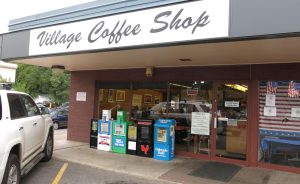 "890 sq feet of reality surrounded by Boulder".  We ended up here after our original destination, The Buff, was a 20 minute wait.  We were first in line and nabbed an open table in about 5 minutes and we were not disappointed!
The Village Coffee Shop is a tiny, locally owned, cash only diner in a strip mall on Folsom boasting fast, friendly service and local regulars that welcome you in.  The food is amazingly top notch, portions are generous, prices are reasonable, and the atmosphere is homey.  What's not to like?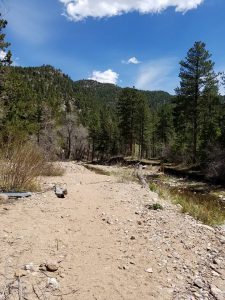 From there, we hopped on Hwy 36 and headed north towards Estes Park!  After about ½ hour of driving in the Colorado foothills, we started our windy, uphill climb just outside of Lyons.  It took about 15 minutes of that before we all needed a break!
We spotted a trailhead and pulled off to check it out.  It turned out to be the trailhead for Lion Gulch Trail, a 6.3-mile out and back moderate hike through the forest and includes historic homesteads.  We only walked a short ways down to the stream to work out the dizziness before getting back on the road.
Rocky Mountain National Park
Once we arrived in Estes Park, we took the Hwy 34 bypass and entered Rocky Mountain National Park through the Fall River Entrance Station.  On our way, we stopped at the Fall River Visitor Center to get maps and water – however, the visitor center was closed!
The gift shop next door was thankfully open (until 5pm), so we did get our bottles of water and a snack as well as a restroom break before heading back out.  Take note of Spring hours and plan accordingly!!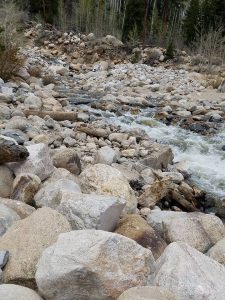 At the entrance station, I purchased an "America the Beautiful" pass.  This is an annual pass that covers entrance fees at over 2,000 national parks, national wildlife refuges, national forests, and other federal recreation sites.  It is a great value and a wonderful way to support our national parks.
Upon entering the park, we headed first to Alluvial Fan and took the short walk to the "falls" – which really is a 42 acre boulder field with water running through it.  It was created when a natural dam broke in 1982.  People often see Bighorn sheep along this road, but we weren't so lucky!
Up ahead, Old Fall River Road is closed, so we turn around and head back to Hwy 34, turning right at the intersection.  We stop and take pictures of the mountains and the 14,259-foot Longs Peak at a couple of scenic overlooks before spotting a small herd of elk just as we were turning onto Bear Lake Road.
As we drove down Bear Lake Road, we see a larger herd of elk in Moraine Park, so we stop along with everyone else to take pictures before continuing on the winding road to Bear Lake.  The temps are in the 70's and the sun is shining, but a few raindrops fall on us as we go.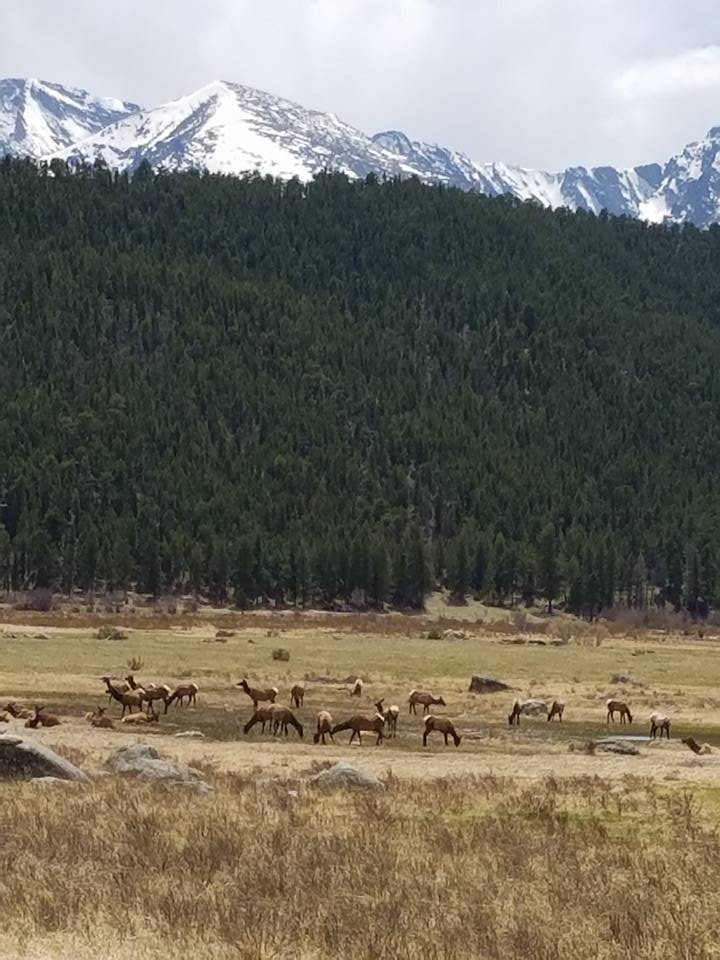 Hopefully, those rain clouds over the distant mountains stay away!
Bear Lake
At Bear Lake, we use the pit toilets before heading out on the 'nature trail' around the lake.  This trail is one of the most popular trails in the park because of its accessibility and beauty.  We see people of all shapes and sizes and attire (flip-flops?) coming out from the trail as we headed out.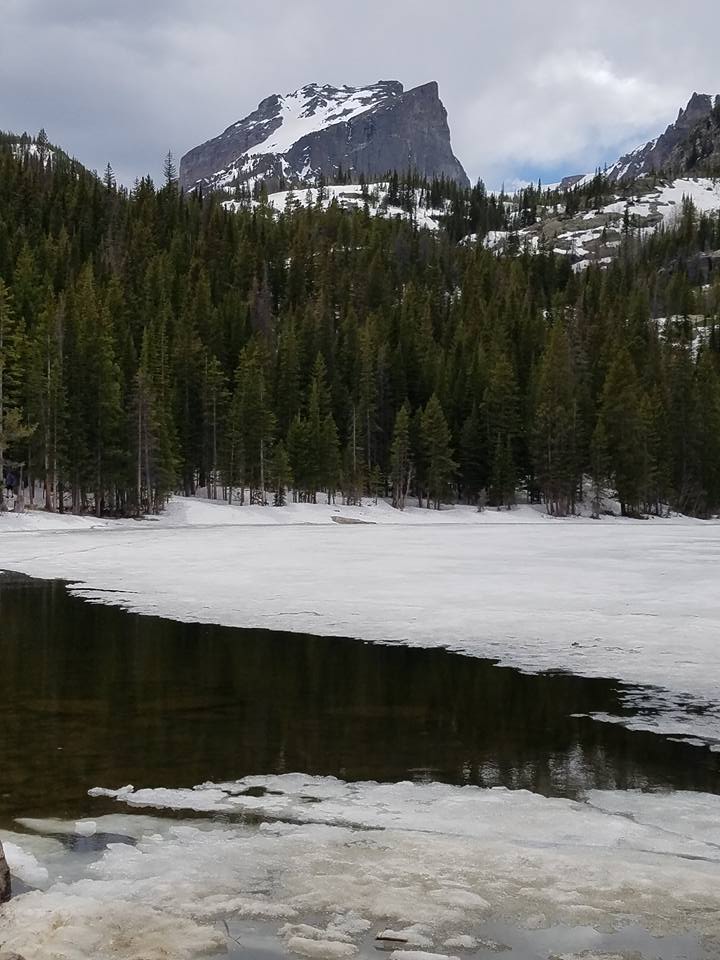 Even at the start of the trail, there is snow.  It is warm, so the surface is wet and slippery, but you can still "dig in" your feet to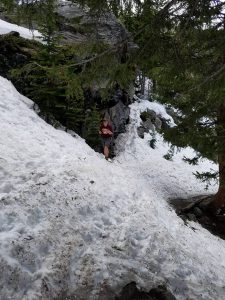 try and avoid sliding.  However, despite our "expertise" in snow walking (we are from the upper Midwest after all!) we slid a few times and even found our legs falling through at times which led to fits of laughter and entertainment!
With the snow cover, we 'lost' the trail a couple of times, but never too far.  In one case, a seasoned hiker directed us back to our trail – I'm sure he shook his head at us "tourists".  But, hey, at least we were better prepared than most!
We met fewer people the further along we went and even ran into a cross-country skier who had veered off his trail!  The snow made the trail fun and interesting and the scenery of the lake and surrounding mountains was beautiful!
Sprague Lake
We then headed back down the road to Sprague Lake.  We found a trail head and started walking – turns out this was a short trail through the woods leading us back to the parking area!  We met a young couple on the way who told us the trail around the lake was further down.  Ha!
The short trail through the woods and along the river was scenic and enjoyable.  Afterwards, we made our way to the wooden bridge and took the easy nature walk around the lake.  The views of the lake and the mountains are great here!
Many of the pine trees are dead or dying in the area due to the mountain pine beetle infestation, but according to recent studies, the epidemic is slowing down – which is good news!  Some of the stores in Estes Park have arts and crafts for sale made from the wood of infected trees.
Moraine Park
As we drove back down the road, we pulled off just after the bridge across Big Thompson River and took the trail along the river just to where the trail crosses the river again.  Horseback riding is popular in this area as well as fishing in the river.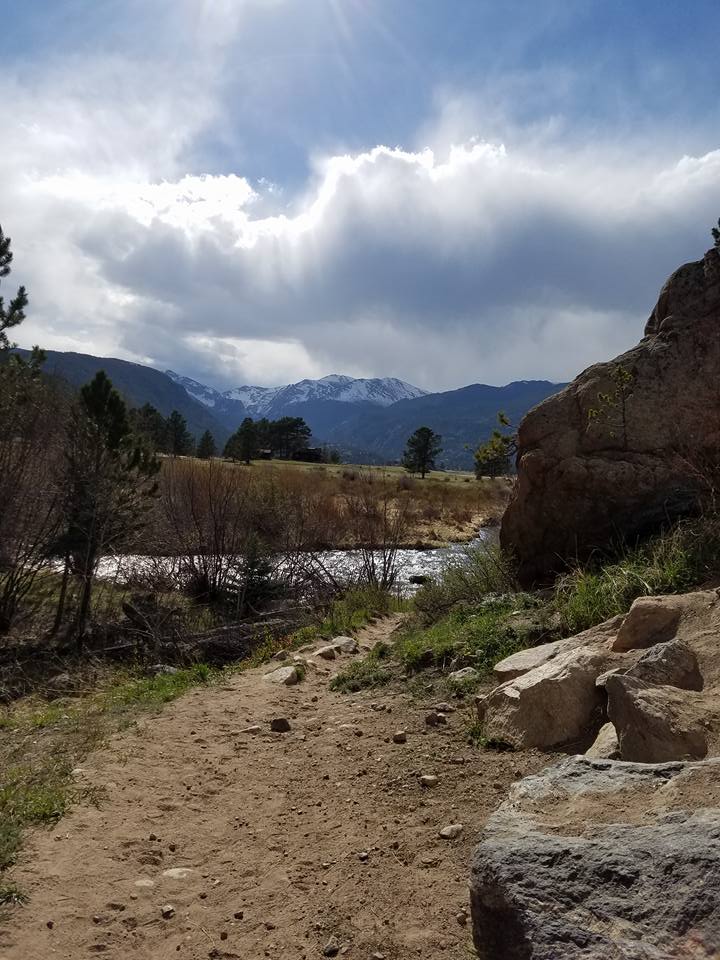 The Cub Lake Trail and Fern Lake Trail are two more hikes you should do in this area.  The Moraine Park Campground is a popular place to camp and it's open year-round.  It can accommodate RVs up to 40 feet and generators are allowed to be run during certain hours (there are no electric sites within RMNP).  Flush toilets are available (seasonal), but no showers.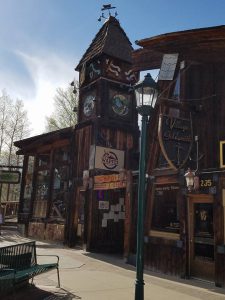 Everyone was getting hungry and the clouds continued to roll in, so we decided to head back into town where we enjoyed authentic Rocky Mountain Oysters (a first for all of us!), cold beer, and great food at Wapiti Colorado Pub.  The Rocky Mountain Oysters were thinly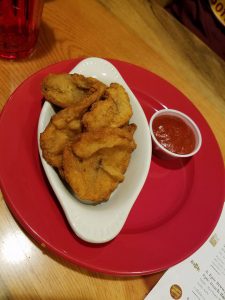 sliced and deep fried – kind of reminded me of eating chicken gizzards – quite good!
If you only have a day to visit Rocky Mountain National Park, I highly recommend you do it!  If you've been to the park and want to chime in or if I missed something on your 'must do' list, please let me know in the comments below!
Also – if you're looking for help planning a road trip in Colorado or your next great adventure, let us know by contacting us here!
As always, thanks for reading!
Kristi, aka The Trippy Tripster