Let's face it, on road trips, especially long ones, we can get really tired of eating at restaurants.  It is also easy to blow a budget just on eating out!  One way to get around this is by cooking some of your meals while on the road.  Intrigued?  Read on!
Cooking on the road is not as difficult as it may seem at first.  Here's what you will need:
Ingredients to cook
A heat source
Utensils to cook with
Plates, forks, spoons, bowls, napkins
Let's take these one at a time.
Ingredients to Cook
Ingredients can be brought with you or they can be purchased on the road.  I recommend you do both.  One thing often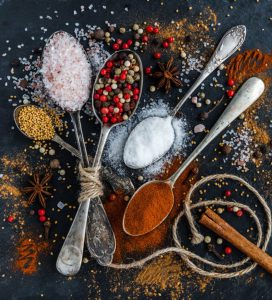 overlooked are spices.  Bland food is no fun.  Make sure you pack at least the following, more depending on your tastes:
Salt & pepper
Seasoned salt
Garlic powder
Onion powder
Paprika
These staples will give you a way to flavor your food without bringing your entire spice rack.  You may also want to consider some 'combination' spices like Montreal Chicken, Cajun Seasoning, or Lemon Pepper.
The next consideration is food groups.  Focus on protein, veggies, and fruit with some grains thrown in for variety.
A few cans of beans and tuna can come in handy.  Precooked shredded chicken, meatballs, and brats transport well in a cooler.  See my cooler recommendations here.  Other meats can be purchased on the road such as fresh seafood and steaks.
Some veggies travel well, namely carrots, celery, peppers, potatoes, and onions.  Pre-slicing or dicing helps with prep time!  Others should be bought at local groceries or farmers markets when you need them.  Fruits that travel well include apples,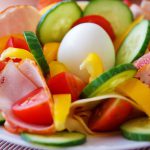 oranges, and cut-up melon or pineapple.  I would purchase berries, bananas and local fruits when you can.
You can also pre-make salads in containers to bring along.  These ready-made sides work great!  Purchasing pre-made salads on the road works just as well.  Especially for an impromptu picnic or camping night.  And, it's not just potato salad and coleslaw – check the produce department for handy green salad packages that you can throw together!
Grains can provide some variety and filler to your meals.  Pasta and precooked rice travel well.  Bread and buns can get easily crushed, so those would be best purchased when you need them.  Tortillas or flat bread are travel-hardy alternatives to bread as well!
A Heat Source
Cold meals are one way to eat on the road and is easily done with lunchmeat, salads, veggies, and fruit.  However, if you want a cooked meal, you'll need a heat source.  Luckily, there are several options!
Campfire
The most basic heat source is a campfire.  If you're camping, it's a no brainer to make use of this.  Some campfire rings come with a grate, but many of those are in terrible shape and not that convenient to use!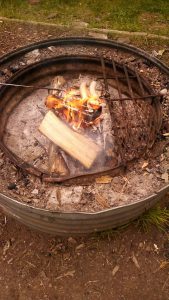 There are two main alternatives you can bring along.  One is a tripod grill and the other is a swing-arm grill.  For both methods, invest in some heat-resistant gloves (we like welding gloves) to save yourself from some burns!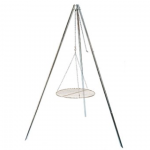 The tripod grill has three legs and is set up over the fire.  The legs are adjustable up and down so that you can somewhat control the amount of heat.  The main downside to this style is that you need to reach over the fire each time to check, turn, or take off the food.  An upside to this style is that it can also be used to hold a lantern.
The swing-arm grill is the one we have.  You pound the main stake into the ground near the fire ring and the adjustable arm holds the grill or pot out into the fire.  You can turn the arm to move the food off the fire to check, turn, or take it off.  Its use is limited to cooking food, but I much prefer it!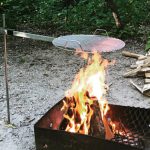 For a campfire, you will also need a bundle of wood, kindling, and either matches or a lighter.  We also like to use a little block of Firestarter to help get it going.  Gathering kindling at your campsite is usually possible, but you may need to purchase some.
You'll need to wait until your campfire has made some coals before you will want to cook on it, so make sure you start it about 30 minutes before you want to start cooking.  Just set up some chairs, crack open a cold beer, and enjoy feeding your fire while you wait!
A Grill
A grill is another heat source you can use.  Many parks supply grills (you may want to bring your own grate), but portable grills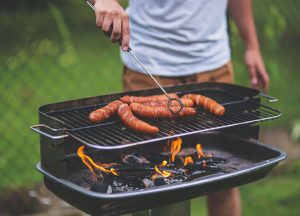 are also an option.  You'll want to bring a grate cleaner and tinfoil.  Grates are easiest to clean once the grill is hot.  Note that they won't be 'shiney' clean – that's not your goal.  Just get the chunks off!  The heat from the fire will kill anything living there.
You'll need to bring along charcoal and a way to light your charcoal.  Some people like the Matchlight charcoal or lighter fluid.  I prefer to use an electric starter, but that's only available if you have electricity!  A chimney with newspaper is another great alternative, but that's taking up more space.  So, really, it's up to you.
Camp Stove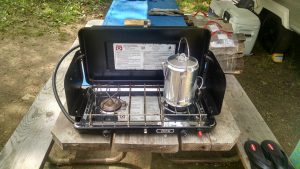 A camp stove is another heat source you could add to your arsenal.  They range anywhere from little backpacking canister stoves to fairly elaborate three-burner propane 'appliances'.  On a roadtrip, you're probably going to opt for the table top 2-burner variety.  Bring along a couple of 1-lb propane cylinders and some matches and you're good to go!
One of the keys to cooking on a campstove is getting a level surface.  Bring a couple of wooden blocks so you can level it no matter what type of ground your table is sitting on!
A Hot Plate
You could purchase a portable hot plate to use while on the road.  However, most hotels will frown upon you using them in their rooms and there probably aren't suitable surfaces to use either!  I really wouldn't recommend it.
A Real Stove
The easiest way to cook on the road is to have a real stove.  Many hotels offer kitchenettes, Airbnb and vrbo properties usually have stoves, as well as cabin and RV rentals.  With a little planning up front, you can make sure you have a place to cook your meal for the night.
Things to Cook With
Now that you have some food and a place to cook it, what else do you need?  It somewhat depends on what you're cooking and where you are.  Here's my recommendations for what to bring along if you're planning to cook on the road (note you may not need these if you're staying at a rental property):
A sharp knife. Even in a rental property, they may not be what you want
Grilling tongs – I like these!
A large pot or dutch oven
A large spoon for stirring and dishing
A spatula
Hot pads & heat resistant gloves (like welding gloves)
Roasting sticks for dogs and marshmallows
Dish soap, rag, scrubber, and towel to wash up. Use the pot as your 'sink'
Trash bags
So, that's about it!  With a little planning and some key items to bring along, you can easily cook on the road and alleviate the restaurant burn-out that comes with long trips.  Did I miss anything?  Have any experiences to share?  Please comment below and let us know!
Are you looking for some recommendations for your next road trip or even a step-by-step itinerary?  Contact us here!
As always, thanks for reading!
Kristi, aka the Trippy Tripster