I'm actually not a big fan for bringing coolers along on roadtrips.  In my experience, they haven't been worth the trouble and space – given two adults and three kids and their luggage, entertainment, pillows, blankets, swim gear, and non-perishable snacks.  That said, there is something to be said for having inexpensive cold drinks and perishables like sandwich fixings, fruit, and veggies along for the ride.  Also, I realize some medications require refrigeration.  So, I'll give you my opinions on the best coolers out there if you want or need to take one along.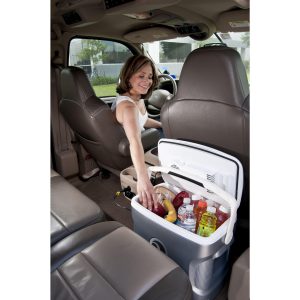 This review is specific to thermoelectric coolers.  If you already know what these are, the pros/cons of these coolers, and the current manufacturers, you can jump right to the punchline.  Otherwise, carry on!
Before we get into the coolers themselves, you have to consider that they come in three 'types'.  Each of which has their own set of pros/cons and you can't really compare the performance of a cooler of one type with a cooler of a different type – it's really not an apples to apples comparison.
The three basic types are "compressor-based", "thermoelectric", and "ice" coolers.  "Ice" coolers can be further broken down by "hard sided" and "soft sided".
Compressor-based Coolers
Coolers that have compressors are really portable refrigerators/freezers.  They require a power source (AC/DC) in order to cool.  They typically have a thermostat and can be set to a desired temperature ranging from about -7 degrees F to +50 degrees F.
They also tend to be expensive, ranging in price from $400 to $1000, but they get really good reviews and they run efficiently, running at a fraction of the amperage once the set temperature is reached.  I will review this type of cooler in an upcoming post.
Thermoelectric Coolers
A thermoelectric heat pump is a solid-state active heat pump which transfers heat from one side of the device to the other, with consumption of electrical energy, depending on the direction of the current.  One side will get hotter while the other side will get cooler.  The "hot" side is attached to a heat sink so that it remains at ambient temperature, while the cool side goes below room temperature.
There are no moving parts aside from the fan(s) and they can be used in more severe environments than compressor-based coolers.  However, they only cool to about 40 degrees cooler than the ambient temperature, so in high heat, your contents will not be 'cold'.  Because of the technology, they can be used to keep things warm (up to around 130 degrees F) as well as keep things cool.  They are also less efficient, requiring a continuous draw of about 5 amps.  I will review these coolers later on in this post.
Ice-based Coolers
These are the most common type of coolers, where ice or frozen blocks are used to cool the contents of the cooler.  They are either hard sided or soft sided.  They come in all sizes and are typically rated by how many days ice remains in the cooler – in other words, Ice Retention.  These coolers are great for beverages that don't mind getting wet, not so much for perishable foods.  They require regular draining and replenishing if you plan to use them for more than a couple of days.
Soft sided coolers tend to leak when using regular ice.  Using sealed, reusable ice packs helps avoid melting ice, but you have to know what you're buying if you want them to work as well and keep your stuff cold.  I will review these as well as ice-based coolers in an upcoming post.
Thermoelectric Cooler Review
When reviewing thermoelectric coolers, there are some characteristics that they all have in common.  Purchasing one brand or another does not matter:
They all require a power source, come with 12V DC power cords, and require between 4-6 amps. They can be plugged into a cigarette lighter or DC power outlet in your car or other 12V motor vehicle.  They will all drain your battery if left on when the car is not running.  Some of them have automatic shut off if they detect low voltage, but according to reviews, I would not rely on this feature.  All of them can run off of AC as well as DC which allows you to plug them in at a hotel or other 110v outlet to keep them working while you're not driving. The differences are that some of them come with AC power cords and the cords provided have varying lengths.  Having extra power cords on hand is recommended.
They all cool to about 40 degrees below the ambient temperature. If it is 90 degrees F, that means they will only cool to 50 degrees F. They all recommend you fill the cooler with food and beverages that are already cold.  They all take significant time (hours to days) to cool something that is not already cold.  You can add sealed ice packs to them to aid in cooling.  Some of them allow for ice to be added as well.  Some of them include a warming feature up to 120-150 degrees.  Some of the coolers activate the warming feature depending on which way the cord is plugged in.  Several reviews talked about accidently plugging them in wrong so that items were warmed instead of cooled, so this should be noted.
They all have external fans that can't be blocked in order for them to work. All of the fans need to be cleaned regularly to remain free from dust.  Some of them have internal fans as well that also can't be blocked inside the cooler.  Items closer to the fan will be cooler than items further away.  Don't over pack these coolers to allow air to circulate.  Some of them have replaceable fans if they should fail.
So, when it comes to reviewing these coolers, you're looking at some of the differences noted above as well as:
Dimensions – will it fit where you want to put it?
Weight – how heavy is it to move in and out?
Capacity – how much does it hold?
Price – how much does it cost?
Other features – locks, cord storage, shelves, etc.
Now that we've established what differentiates coolers in this category, let's get down to it.  The brands that are best rated for thermoelectric coolers include:
Coleman – Coleman is well recognized as a leader in outdoor recreation products. They are an American company that have been in business since 1900.  Since they were bought out in 2005 by Newell Brands, the majority of their goods are now manufactured in China, however their coolers are still manufactured in Wichita, Kansas.  They only have two products in the thermoelectric category and both of them are 40 quarts, too big to fit behind a seat, so they'd have to ride in the trunk or the back of an SUV.  I include them here for completeness sake.
Igloo – Igloo is an American company that started making metal water coolers for blue collar workers in 1947. The company's first plastic ice chest was introduced in 1962 and claims that nearly three in every four US households owns an Igloo cooler.  All Igloo coolers are currently manufactured in Katy, Texas, USA.  Although you can find Igloo Iceless coolers for sale, their website does not mention them except for having an out-of-stock power cord.  Therefore, I don't think they intend to stay in the thermoelectric market and you probably will have issues getting parts.
Dometic – Dometic Group is a Swedish manufacturer that had beginnings in 1922 and has been involved in refrigeration for the RV, marine, and automotive industry. They offer both thermoelectric as well as compressor-based coolers.
Koolatron – Koolatron is a Canadian company that has been a leader in thermometric coolers and refrigeration products for over 30 years. All of their coolers are manufactured in Ontario, Canada.
Wagan – Wagan is a small US company founded in 1983 in Hayward, California. It markets many brands focused on the automotive accessory business.  I couldn't find any information about where it's products are manufactured, so can only assume it is off-shore since they have less than 50 US employees.
Black & Decker – Black & Decker is an American manufacturer of many accessories, tools, and home improvement products since 1910. It is headquartered in Towson Maryland and merged with Stanley Works in 2010.  They have manufacturing plants in the US, Brazil, China, the Czech Republic, Germany, Italy, Japan, Mexico, and the United Kingdom.
Coleman
Igloo
Dometic
Koolatron
Wagan
Black & Decker
Overall Thoughts
Consider it if you want this size
Recommend, but beware
If you're into high end, you might want it

Fully Recommend
If you're going for cheap, might want to try
Maybe consider if you want it small
Model
PowerChill
Iceless
Tropicool
P20
24L
9.2 Qt
Price
$101-135
Check Prices
$66-116
Check Prices
$130-240
Check Prices
$80-200
Check Prices
$77-125
Check Prices
$80-130
Check Prices
Dimensions
23.5×15.3×17
18.3×12.8×17.3
16.5x12x17.6
16.3×8.5×17.5
16.7×10.5×16.7
17.7×10.7×13.6
Weight
18 lbs
10 lbs
16 lbs
9 lbs
10 lbs
10 lbs
Capacity
40 Qt
26 or 28 Qt
15, 21, 35 Qt
8-65 Qt
6-25 Qt
6.4, 9.2 Qt
Pros
Quiet

Upright capable

Storage tray

Door converts

Warms and cools

8 foot cord

Brushless motor

Convection, even cooling

8 foot cord

AC cord available

Fits behind seat

7-stage digital controls

energy efficient

operates in tilted positions

LED temperature display

Cord wrap

Variety of sizes

Interior fan

AC cord available

Brushless motor

Even cooling

Chest or vertical

Warms and cools

Soft-side available

Hot/cold switch

LED indicators

7.5 foot cord

AC cord available

Warms and cools

Dual cup holders

Adjustable shoulder strap

Zippered side pouch

Small size

Cons
No AC cord

Large size

No interior replacement fan

Heavy

No warming

Looks like they are discontinuing

More expensive

No AC cord on some models

Heavier

Higher energy consumption

Only 32 degrees cooler than ambient

Quality is suspect

Smaller height

6 foot cord

6 amp draw

No replacement parts
So, after my research and analysis, and even though Igloo is my favorite cooler brand in general, the Koolatron products look to be the way to go .  Built and serviced in North America, they have been in the business a long time and look to be most serious about staying in the business for the long haul.  They have a nice variety of sizes to meet your space and capacity needs and their features are comparable to even the high end brands.  They don't have the switch/light indicators, but other than that, it seems you can't go wrong here.
Have you had any experience with these thermoelectric coolers?  Any other tips/advice you can provide?  Comment below.
As always, thanks for reading!
Kristi (aka The Trippy Tripster)