Who doesn't like kids?  And road trips.  But, the two together?  That doesn't conjure up very good images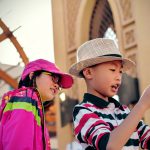 with sounds of "Are we there yet?" ringing in your brain.  Taking a family roadtrip adventure is something everyone should do.  Planning it out right will help you keep your sanity and make the entire experience actually enjoyable.  How to do it?  Read on to find out!
There are a few critical things to keep in mind when traveling with children.  The first is to avoid boredom, the second is to avoid hunger, and the third is to always have 'good behavior bait' in your back pocket.  The key to all of this is preparation.  You need to have the right things on hand and the right plan to be successful.
Avoiding Boredom
In today's world of 'always on', it is challenging to keep kids from getting bored.  On the other hand, it also provides virtually unlimited options on solving boredom.  You just need to make it work for you rather than against you.
Boredom can stem from basically two places.  Not having anything to do and not having anything new to do.  So, the key point here is to have a variety of things to do and to dole them out along the way – rather than all at once.  Keep the new stuff hidden until you deem it the 'right time' to bring them out.
You really can't expect your kids to stay entertained for more than a couple of hours at a time.  Therefore, you'll need to have some way of breaking up each day into 2-3 hour segments.  These segments can be broken up into snack/lunch breaks, bathroom breaks, new activities/games/movies, or a sight-seeing stop.
For our family roadtrips, I always packed a duffle bag.  This bag had activity books, kids magazines,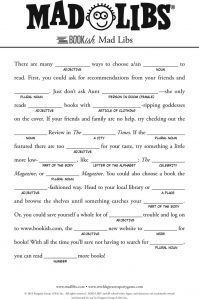 coloring materials, puzzle books, madlibs, hangman, a Frisbee, balls to play catch, and the like.  I did not let on what was in the bag.
Each day on the trip, something new would come out of the duffle.  Twice if it was a really long travel day.  Rest areas give everyone a chance to stretch their legs and work off some energy.
Each kid had a handheld game system (e.g. Gameboy) and I would pick out a new game for them to take along on the trip.  Which game was always a surprise and we would have the kids wait until at least the afternoon of the first day before they got it.
Playing travel games gets everyone involved and can take up quite a bit of car time.  Use them when other more individualized activities grow old.  Look here for ideas on travel games.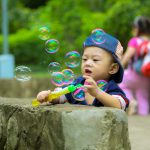 We always had DVD players along for our roadtrips.  I would purchase a movie for every day that was over six hours of driving time.  Which movies was kept hidden from everyone.  On a 'movie day', after we had stopped for lunch and after we were back on the road (and not before!), we would start the movie guessing game.
I would give them the letter the movie started with as well as how many words in the title.  Then the questions begin!  The kids take turn asking questions about the movie until one of them can guess it.  Once it is guessed correctly, they get the movie to watch.
Don't forget the headphones unless you want to listen to the movie too!  One trip, a headphone cord got broken and I had to listen to the first Ice Age movie again and again.  It was a strange experience to actually watch the movie after that!
Avoiding Hunger
An assortment of snacks were purchased ahead of time and handed out every few hours on the road.  Buying multi-packs at the grocery or club store is a cost-effective way to manage hunger.  Go with some sweet and some savory to keep everyone happy and provide variety.
Collect trash and throw it away every time you fill up for gas.  This helps to avoid the 'trashy vehicle' at the end of a long journey.
We always stopped for lunch along the way.  Sometimes we would pack a picnic lunch – especially if we were traveling through the middle of nowhere.  Stopping and getting out helps break up the day better and keeps the vehicle cleaner.
Good Behavior Bait
Of course, even with all of your planning and doling out, the kids can still get cranky!  Here is where it is important to have some bait to serve as a reward for good behavior.  For us, it was two things – pool time at the hotel as well as kid-friendly destinations like children's museums, theme parks, minigolf, go-carts,
and the like.
If bad behavior rears it's ugly head, then you start taking time away (10 minutes at a crack) from these activities.  Of course, the kids won't want to miss out, so it becomes very effective (at least it was for us).  They may ask what they can do to earn back time, so be ready for that as well.  Maybe it's being extra quiet for some time, helping with a sibling, or taking a nap.  Be creative!
Preparing for the Big Day
In summary, here is a checklist to help you prepare for your best family roadtrips!  Comment below if you have more to add in your own experiences!
Purchase age appropriate activity & puzzle books
Purchase kids magazines or books
Purchase coloring materials or travel friendly craft projects
Purchase madlibs, seek-n-finds, hangman, trivia games
Purchase a variety of sweet and savory snacks
Purchase 'gameboy' games or games for kindle/cell phones
Purchase a movie for each long driving day
Pack your duffle with all of these and Frisbee/balls
Plan out rest area and/or lunch stops
Book hotels with swimming pools
Plan for kid-friendly activities along your roadtrip
Have your kids help plan – but keep some things secret!!!
As always, thanks for reading!
Kristi – aka The Trippy Tripster!