The Amalfi Coast, recognized as a World Heritage Site since 1997, is one of Italy's (and the world's) most beautiful coastal landscapes. If you are one of the millions of tourists every year to plan a vacation here, you'll be wondering how you find the best secluded and most unique places to stay along the route.
While you can travel the Amalfi Coast in a day and can even hire someone to drive you, you will be able to more fully experience all the wonders it has to offer if you take it slowly and meander through the villages, hike the trails, and sample the culinary delights.
Best time to go – between May and June or in September. The sea is warm, and hotels, restaurants, boutiques, and cultural sites are all operating.  July and August are busiest and most expensive. Arrive by ferry, boat, or train. Take buses (or boats!) from town to town or rent a car. Purchase as much as you can well ahead of time online.
Here is an overview of the Amalfi Coast route and the villages I will talk about here.

This post will give you a variety of choices on where to stay while you're traveling along this scenic road. Depending on how touristy you are, how much money you want to spend, and how quiet or busy you want your vacation to be – here is where you'll find some great recommendations!
Note that there are literally hundreds of places to stay on the Amalfi Coast. Many beautiful vistas and amazing sea views. There are a lot of places with only a few rooms, villas, or apartments. To get your best choice, be sure to book 4-8 months in advance!  All lodging pictures here are courtesy of the property owners and not my own.
One last thing to note.  Many people try to fit Naples and Pompeii into their trip to the Amalfi Coast.  If you want to do that, I would suggest going there at the beginning or at the end of your trip.  That way, your time on the coast can be spent on the coast and not in traffic!
Luxury and In the Thick of Things
If you're splurging on this vacation, money is no object, and you want to be in the middle of all of the action, you really should stay in Positano. The main reason to reconsider is if you can't take the strenuous walking up and down stairs required to get around this town. Known as "the vertical town", it's the steepest village on the coast.
Positano is also one of the most famous villages on the coast and is known for the pastel-colored houses on sheer cliffs. It is extremely popular among the 'rich and famous' and is bursting with nightlife. It has a beautifully, small sandy beach and upscale shopping. Its location allows for plenty of day trips along the coast by boat, bus, or car.
Recommended Villa – Torre di Positano (aka Torre di Clavel)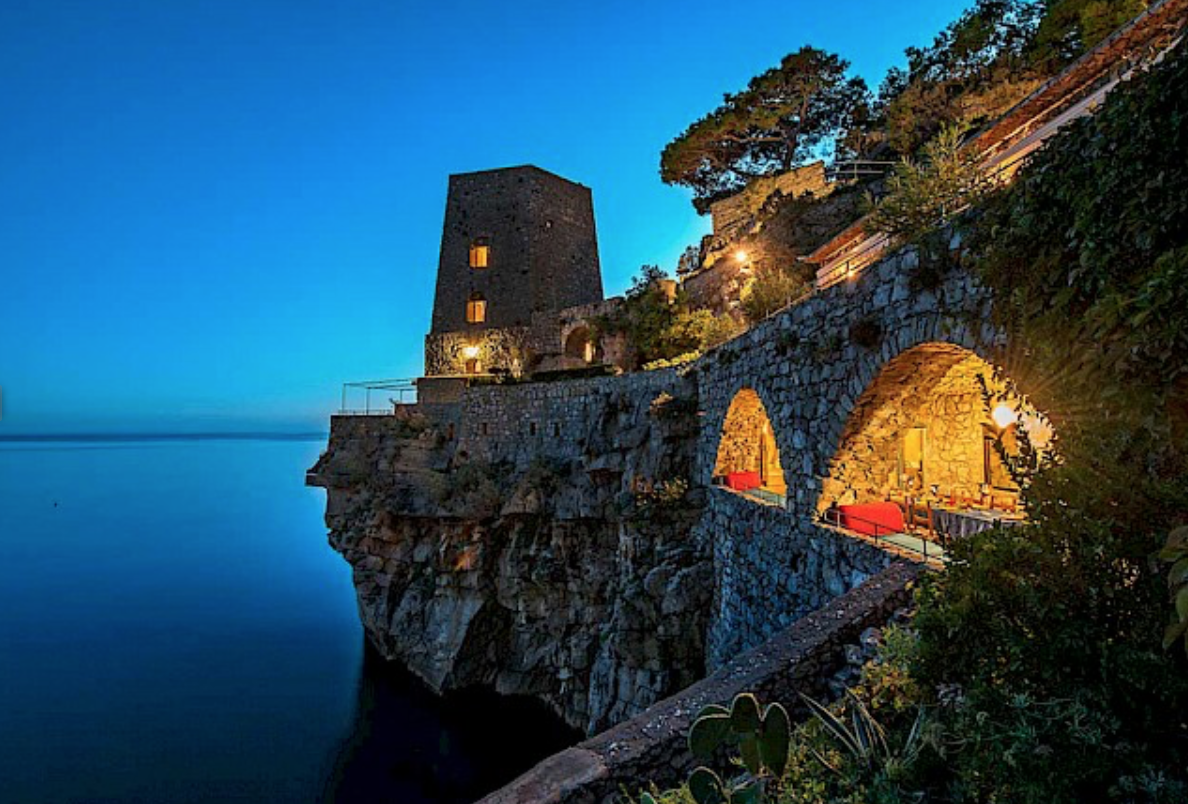 Torre di Positano is one of the most prestigious properties on the coast and is located on the edge of Positano harbor.  With a history that dates back to the 13th century, its architecture and location are truly unique.  Restored and enhanced by artist Gilbert Clavel in 1927, this property has entertained many famous guests, such as Cocteau, Depero and Pablo Picasso.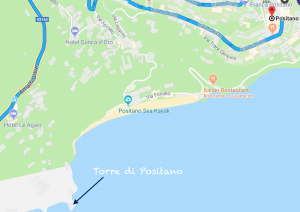 The structure is made up of multiple levels connected by open-air pathways and staircases hewn from the stone.  It is surrounded on three sides by water and has a private path to a public beach.  Only reachable by water taxi or on foot, it is the perfect combination of privacy, outdoor living, and elegance.
With three distinct living quarters, three different groups or families can share the space up to 13 people.
24,900 Euro a week. Saturday to Saturday.
Recommended Hotel – Le Sirenuse
Le Sirenuse is one of the leading seaside luxury hotels on the coast while retaining the intimate, cultured atmosphere of a private home.  Renovated from a patrician house, this family owned hotel is a "feast for the eyes", providing comfortable, lived in elegance.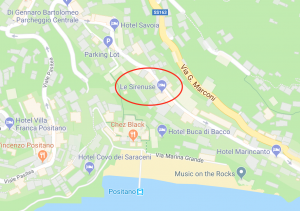 The hotel is centrally located within walking distance of everything Positano has to offer.  It is built into the seaside cliffs, provides a small pool, spa treatment rooms, sauna, fitness center, and yoga.  It offers a free breakfast and has an oyster & champagne bar onsite.
Its Michelin-starred La Sponda restaurant has a menu that honors the culinary traditions of the region.  The 58 rooms almost all have a private terrace or balcony with seaside views over the bay of Positano.  Room sizes range from a standard sleeping two up to a 2-bedroom suite with a living room.  1,700-3,000 Euro a night.
Luxury A Bit Off the Beaten Path
On the Amalfi Coast, you can experience luxury slightly off the beaten path. There are many entire villas and 5-star resorts to choose from, but here are my recommendations based on their location and unique features.
Recommended Villa – Villa Bendis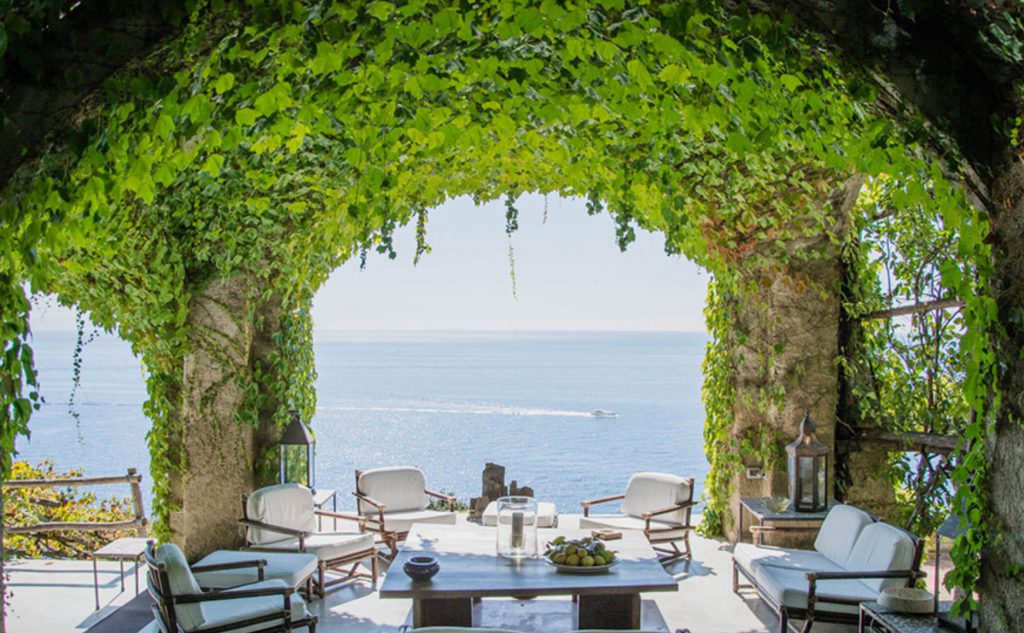 The Villa Bendis Vacation Rental  is a 10 minute drive from Amalfi near the village of Maiori.  It offers a true haven of solace from the crowds with first class amenities and exceptional views.  It resides in an expansive, lush private terraced park from street level down to the water.
It includes a private pool and private path to the sea.  Complimentary golf carts are provided to explore and a house chef is available to prepare dishes that represent the true essence of the area.  With seven bedrooms, the villa can accommodate up to 14 guests.  25,000 Euro a week.  Saturday to Saturday.
Recommended Hotel – Il San Pietro di Positano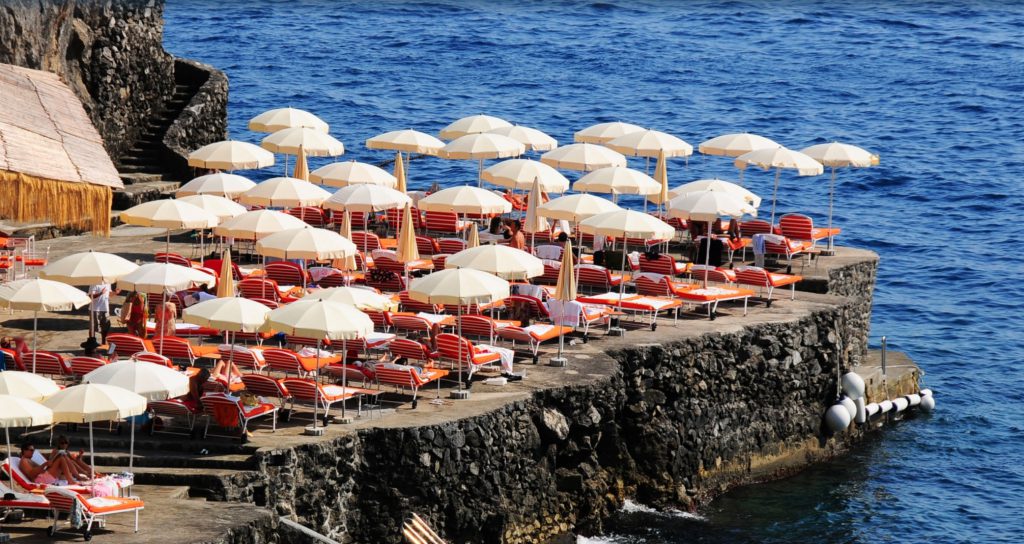 Il San Pietro di Positano is one of the most famous places to stay on the Amalfi Coast.  It is especially popular with celebrities, honeymooners, and affluent travelers.  Located 1.5 km from Positano city center,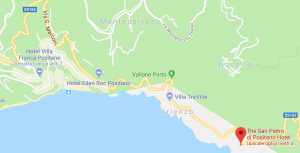 it offers seclusion from the bustle of town with easy access to the nightlife and shopping via its free shuttle service.
The rooms and suites are spacious with huge terraces and sea views.  There is a luxurious spa on site along with a fitness center, tennis courts, infinity pool, and rare botanical gardens.  Private beaches are accessible via elevator and there are two restaurants on site, including Michelin starred Zass, where they use vegetables from their own garden.  Average 3,000 Euro a night.
Centrally Located
Although every village along the coast is easily accessible by boat, bus, or car – the entire road can be driven in a few hours – residing in or near Amalfi, the halfway point, keeps everything very convenient and is a great city to use as a base.  If you don't want to stay in Positano, Amalfi is a great alternative for most.
Amalfi is the largest town along the coast and a major transportation hub which can lead to crowds and plenty of tourists. But, because of its size, you can find off the beaten path areas and have plenty of alternatives if a particular place is too busy. It is situated at the mouth of a deep gorge and is home to many hiking trails, including the famous "Path of the Gods" hiking trail as well as several beaches.
Recommended Hotel – Hotel Luna Convento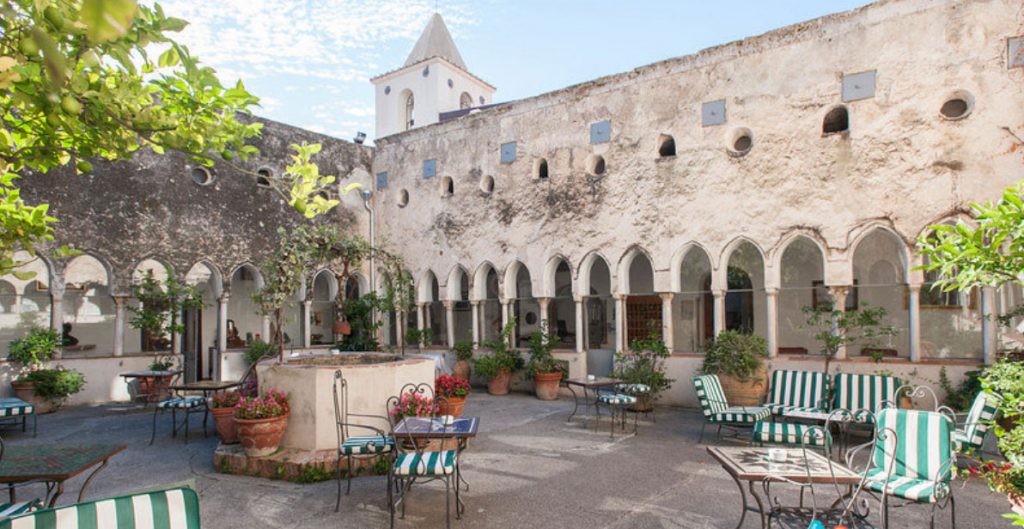 Amalfi – Hotel Luna Convento  is a unique property converted from a Monastery in 1818 and is located a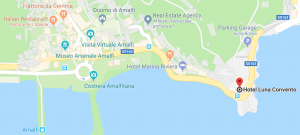 mere 5-minute walk from Amalfi city center.  Its historic charm blends in with sophistication and comfort.
It has a beautiful cliffside swimming pool, spacious rooms with sea views, a free breakfast served in the central cloister, and two onsite restaurants.  You can stay here for about 350 euro a night.
Recommended Hotel – Hotel Floridiana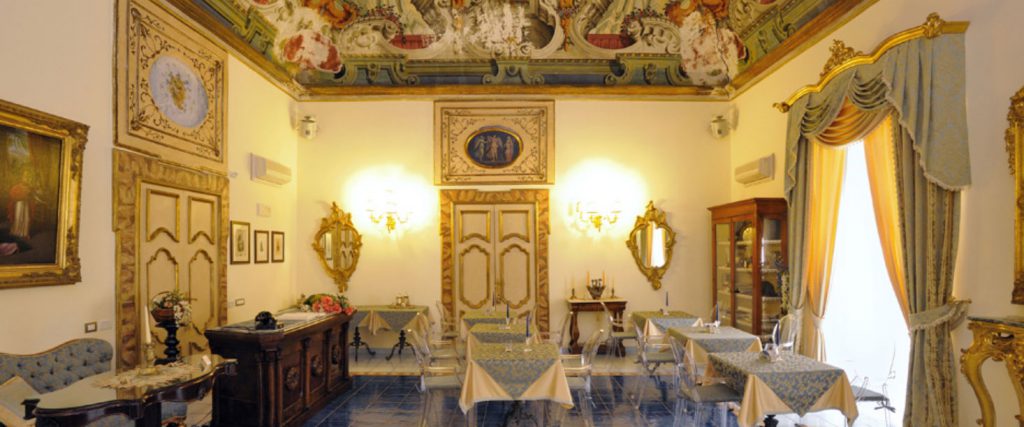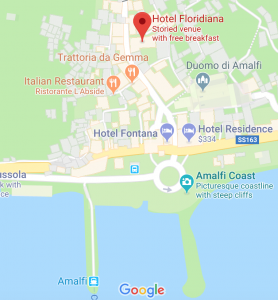 Located in Amalfi city center – Hotel Floridiana has a laid-back atmosphere with simple furnishings in a restored 12-century residence.  It is a boutique hotel in a great location for exploring Amalfi and a short walk to the ferry to adventure out to the rest of the coast.
It has rooms and suites with sitting areas and whirlpool tubs.  It also serves a complimentary continental breakfast buffet in an elegant decor from the 16th and 17th centuries.  An added bonus is a parking garage.
You can stay here for about 200 euros a night.
Recommended Villa – Villa Lara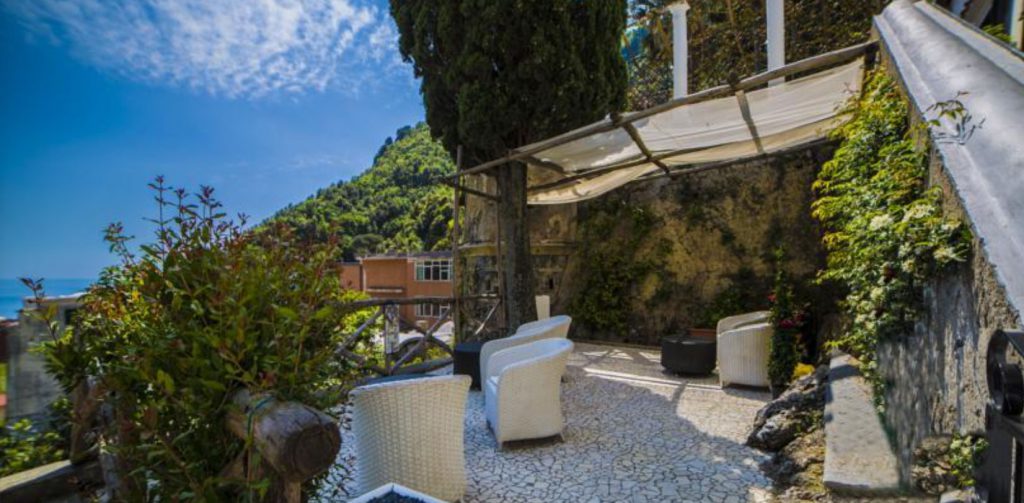 With traditional Italian charm, the Villa Lara is one of the best values for the money when staying on the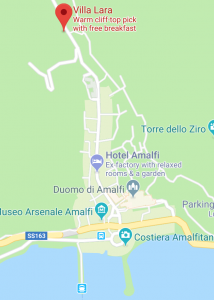 Amalfi Coast.  It is a 6-room 19th century villa nestled among terraced vineyards and lemon groves.  The rooms offer  beamed ceilings, king-sized beds, and gorgeous views of the city and sea.
Located in the historic center of Amalfi, the venue still provides complete tranquility from all of the crowds with the highest terrace in the village.  Its antique decor is a mix of elegance and practicality.  A complementary breakfast is served on a panoramic terrace.  You can stay here for about 300 euro a night.
Recommended Apartment – Casa Colonne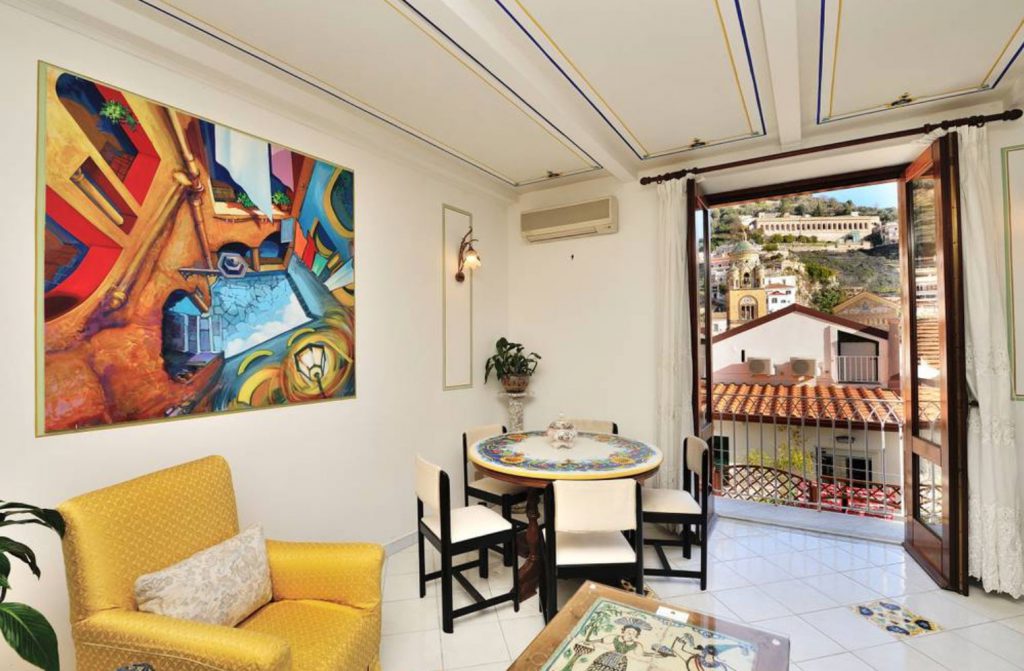 Casa Colonne is a centrally located apartment that you can rent in Amalfi.  It accommodates up to 4 guests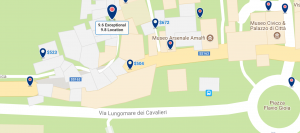 and is situated in a unique historic building with a unique feel.  It is near Piazza Duomo and a short walk to the beach and the ferry.
It includes a living room and a furnished kitchen as well as a private balcony.  The host is friendly, gracious, and helpful.  You can stay here for about 160-200 euros a night.
Low-Key and Less Touristy
There are many small villages along the coast that you could choose to stay, but I would recommend either Nerano or Praiano if you're looking for low-key and less touristy places to spend your time.
Nerano
Nerano is a small fishing village near the tip of the peninsula and in the center of the Punta Campanella Natural Marine Reserve. If you're looking for a more nature-centred and quaint base, this is a perfect place for boating, kayaking, scuba diving, and hiking. Renting boats to other coastal villages makes the bustle accessible when you want it.
It is also a culinary wonder with its legendary spaghetti with zucchini pesto (hyper-local) and no shortage of wonderful restaurants with local specialties.
Recommended Hotel – Locanda Del Capitano – Nerano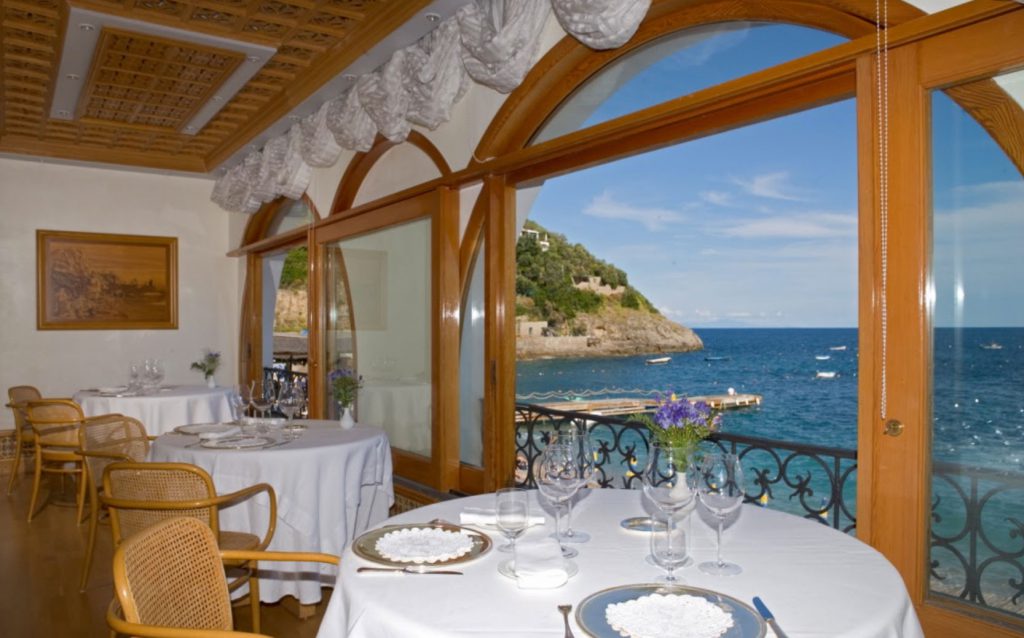 The Locanda Del Capitano is set on the coast of Massa Lubrense and is a 1-minute walk to the beach.  It

offers a seafood restaurant and views of the Marina del Cantone bay.  Most of the 11 rooms have a sea view and a complimentary continental breakfast of sweet and savory items is served in the panoramic dining room overlooking the nearby private beach.  You can stay here for about 190 euro a night.
Praiano
Praiano is a tiny village located halfway between Amalfi and Positano, making it a wonderful central location alternative to staying in Amalfi itself. It is often overlooked by other tourists, is much quieter and arguably the most romantic.
It has gorgeous sunsets and the beach is 2nd to none. Also a great place for hikers, includes the trail head for the famous Sentiero degli Dei trail. Hospitable, friendly, and laid back, it's a great base for the coast.
Hotel Recommendation – Hotel Pellegrino – Praiano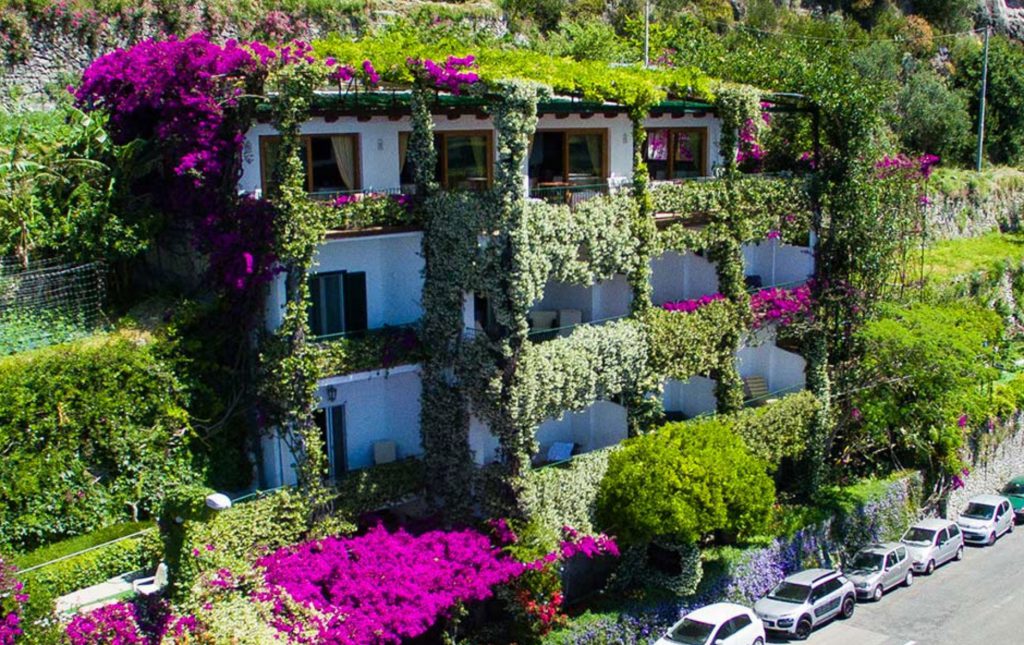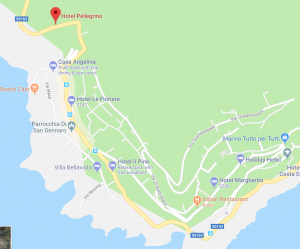 The Hotel Pellegrino is a quaint, hillside hotel that has been hosting visitors to Praiano for forty years.  The family run hotel welcomes you like family, offering large, comfortable rooms with balconies overlooking the historic town and the sea.  Parking is available and a complementary breakfast is served making this an ideal base location for your coastal adventure!
Renting a House or Apartment
Another option here might be to rent a house. Renting a house through HomeAway or AirBnB gives you the opportunity to live like a local and fully experience the atmosphere of the town. My recommendation is this one, but use HomeAway or AirBnB to find others – there are a lot!
Hopefully this gave you some insight into helping you decide where to stay when visiting the Amalfi Coast. It can be overwhelming with all of the great little villages, hotels, villas, and apartments to choose from. One thing you can be sure of – it will be a vacation to remember wherever you end up sleeping for the night!
Are you looking for recommendations for your next road trip?  Or maybe a customized day-by-day itinerary?  We'd love to help!
As always, thanks for reading!
Kristi Schultz, aka The Trippy Tripster!