Taking a long road trip can be an enjoyable experience or it can be the most boring time of your life.  How do you make it more enjoyable?  Read on!
Break Up the Monotony
The key to enjoying long road trips is to break up the monotony of the road.  Just driving for miles and miles and miles can be really boring.  Especially if you're on the interstate and the scenery doesn't change for days.
Take Your Time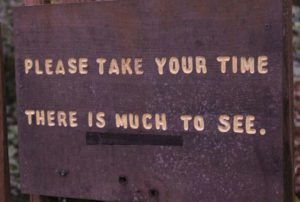 The first thing to consider is changing your mindset a little.  Can you afford to take a few extra hours or days to get from A to B?  Taking your time and finding activities or scenic routes along the way can add interest and break up all of that freeway travel.
Taking a more scenic route can offer opportunities to find and explore areas off the beaten path that you wouldn't normally stop to see.  You might not even realize and be pleasantly surprised that there is much more to an area than what you can see from the freeway.
It can change your entire perspective and give you a renewed appreciation for the region.  Well worth the little extra time it takes at the end of the day.
Take Breaks
Even if you are taking the fastest route, you should still plan to stop every 2-3 hours to take a break.  Just getting out of the car, using the restroom, stretching your legs, and taking your eyes off the road for even 15 minutes can do wonders for your psyche.
If you plan ahead, you can take your breaks at scenic overlooks or parks, eclectic shops, hole-in-the-wall cafes, or unique coffee shops.  Rest areas can be boring too and stopping for gas isn't always necessary.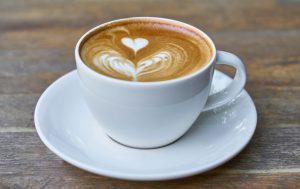 You can often find great museums, parks, hiking trails, historical places, wineries & breweries just minutes off the beaten path.  Each one offering a welcome diversion without adding a huge amount of time to your overall plan.
Bring Snacks
Diving into your snack stash or thermoelectric cooler for a little something can take your mind off of the road and give you something to do while making your tummy happy.  Snacking doesn't have to mean junk food.  See my recommendations here for some great ideas.
Snacking and staying hydrated will also keep you and others from getting 'hangry' which can help in overall automobile atmosphere.  Meltdowns and arguments are often the result of low blood sugar – easily remedied by keeping fueled.
Have a Picnic
Eating at restaurants day after day can get really old.  Planning several picnics can give you a break from that while also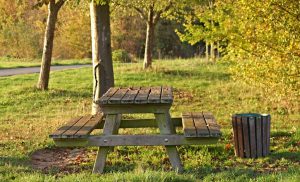 making it easy on your budget.
Find a grocery, deli, or local farmers market and load up on salads, sandwich fixins, chips, and the like and find a nice park along your route to stop at.  You can even make a little adventure out of it by taking a short hike to a scenic spot.
Don't limit yourself to cold food either.  Grilling food can be a viable option, just don't forget the charcoal and some way to light it!
Play Games
Road trip games can be great fun and the time can fly by while you play them.  There are the classic games and there are new ones you probably never heard about before.  You can read all about my recommendations in this post here.
Electronic games can use up a lot of time, especially if they are new ones!  Handheld Gameboy-type games are great and iPads/tablets offer a lot of variety including applications and books.
You can also play a short physical game when stopping at a park or play area.  Having a Frisbee or ball to throw around can be a great way to warm up your muscles and burn off some steam can help everyone's attitude!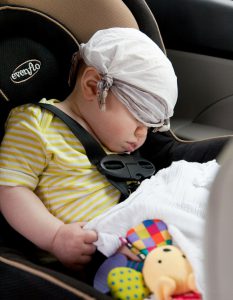 Sleep
Bring pillows, blankets, and your favorite stuffed animal so you can sleep in the car in comfort!  Travel pillows can come in handy, but even your home pillow can be used.  Taking naps and taking turns driving can really help the time fly by!
Watch a Movie
Portable DVD players are not that expensive if your vehicle doesn't come with them built-in and movies are a great way to eat up time.  We always have a stash of old favorites and then I also buy a movie for every long day of driving (more than 4-5 hours).
I keep the movies a secret and after lunch on the long day is 'new movie time'.  We have to actually get on the road and then the guessing begins.  I give them the first letter of the first word and the kids have to guess from there by asking questions about the movie.  They still enjoy this game even though they are all young adults now!
Keep Your Ears Busy
Load up your Spotify/Pandora/iTunes with great music, audio books, and comedy shows that you can listen to on the road.  You may also want to subscribe to satellite radio so that you can find talk radio or sports broadcasts even when there are no AM/FM radio stations available.
Be Spontaneous
One of the best things about road trips is you always have the opportunity to stumble upon something that is really fun, interesting, or beautiful.  Keep an open mind and keep a look out for places you can stop along the way spur-of-the-moment.  Asking locals for things they know about is a great way to find these.  Or even just looking at a detailed map of the area.
These are just some ideas on what to do while you're on a long road trip.  Did I miss anything?  What do you like to do?  Let us know in the comments below.
Are you looking for recommendations for your next road trip?  Or maybe a customized day-by-day itinerary?  We'd love to help!
As always, thanks for reading!
Kristi, aka The Trippy Tripster!