Sometimes, when we take roadtrips, we're really only motivated to get from A to B in the fastest way possible.  Usually, this means hitting the freeways and eating at fast-food drive-thrus.  But, what if you did it different next time?  What if you took a little (or a lot) more time and actually enjoyed the journey?  Don't get me wrong – I drive my fair share of freeways – but usually because there are new regions further along that I want to explore.  They are an extremely useful way of maximizing your roadtrip experience.  But, shouldn't be your focus!
So, how do you find these scenic routes?  These out of the way places to see and explore?  I usually start by looking at my roadtrip as a whole.  What are the 'must do' destinations?  Then I map that out using tools like mapquest or googlemaps.  Usually, those tools will give you the 'fastest' or the 'shortest' route options.
Once I have a suggested route, I start to look at the region and/or states that the route goes through.  I look for parks – national parks, state parks, county parks, city parks (any green spot on the map).  I then do some 'must see in xyz' google searches on those parks, cities, counties, states, regions and cross-match the list with the parks and other things I like to do (like mini-golf).  I look at any reviews or photos I can find.  I look for 'scenic drives' or 'scenic viewpoints' in the area.  And, once I have an overwhelming variety of things, I stop and just start picking out the new mini-destinations that I'd like to add to my trip.  For each destination, I take note of their hours (keeping time-zones and time of year in mind!) and any advice they have on how long to visit.  Before I actually map it out, I go through this for each segment of my plan until I have a laundry list of new destinations.  I also check out any 'must do' restaurants in the areas – since in many ways, they can become a destination in of themselves!
That's when the real work begins….    Mapping and remapping.  Taking destinations on and off the list – making choices based on how much time, length of travel, money to spend, etc.
Once that is in place, I finish up the 'where do we eat' destinations as well as the 'where do we stay'.  On our first road trip, I left this to chance and it didn't work out well.  Sometimes, I will still leave some of it to chance, but I still like to scope things out 'just in case'.  Any reservations I make are able to be cancelled and I still ask the locals where they like to eat.  So, even if I have a 'plan', we are open to change along the way.  It's just nice to know you'll have a place to lay your head for the night and not end up sleeping in your car!  Once you've done that, your map looks more like this.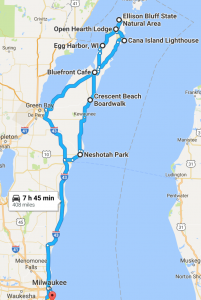 If others are going on your trip, it's always good to get their input early and often.  You can't please everyone 100% of the time, but if everyone gets a chance to provide ideas and feedback (even if they are little), the trip tends to go much smoother.  Also, don't overschedule your days.  It's ok to have a few options out there depending on weather, time, and what ends up working out, but don't expect to do that many things a day.  Be flexible and be ready to let some of your 'must do's go.  There will be other roadtrips and doing a 'must do' just for the sake of ticking it off your list is not really doing a service to you, your fellow travelers, nor the destination.
Planning a roadtrip can be a lot of fun, but it can also take a lot of time!  Check out the rest of my website to find out more about this roadtrip plan as well as how we can help you with your next adventure!
Thanks for reading!
Kristi