When many folks think about vacations, they think about reserving a week or more of time off of work, booking flights and tours, and waiting in anticipation for months until the big day arrives.  While there is nothing really wrong with this point of view, there are several issues with it:
We don't do this very often.  Maybe once or twice a year at the most.  Some people never do it.
It takes a lot of time and planning.  You need to save up time off from work, you need to meticulously plan every moment to get the most out of your trip, and you need to prepare, prepare, prepare for the big day months in advance.
It can be expensive.  Very expensive.  You'll need to research expenses, develop a budget, save money, and pinch your pennies.
Because of these issues, people miss out on precious downtime from their daily grind.  They feel like they don't have the time or money for a vacation, and so they never take one.  They work and save for the day that never comes.
So, what's the alternative?  Think roadtrips!  And, not just 'across the country' roadtrips, but 1/2 day roadtrips around your local area or weekend trips that are just short drives away.  Explore your city, region, countryside and be a tourist in your own back yard.  Look for local and unique restaurants, stay in out of the way places, find the green spots on the map and discover why someone set aside that piece of land to make a park.  Do the 'touristy' thing that you've never done or just find a quiet spot to enjoy the scenery and relax.  You'll be surprised how much you can find to do that doesn't take much time or much money, yet gives you a break from your daily responsibilities.
"Two roads diverged in a wood, and I – I took the one less traveled by, and that has made all the difference." – Robert Frost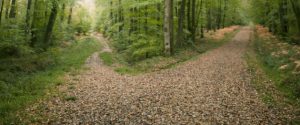 Join our community, look around for ideas and inspiration, contribute your own experiences, and get out there!
Thanks for reading!