When looking for hidden gems off the beaten path for a road trip, one of the key things to look for are the little green spots on a map. These designate natural areas that someone chose to set aside as a park of some sort. Sometimes, they are just open grassy areas with playgrounds or soccer fields, but many times they include some natural wonder that is well worth a visit. On one of our trips down to Florida, we selected Pickle Springs Natural Area to check out – a little green spot 18 miles off of Highway 55 near Farmington, Missouri. We visited in March of 2009, so our pictures are from that time of year.  Here's what we discovered – beautiful trail definitely worth the little side trip to check it out. The kids had a great time! Thanks for reading!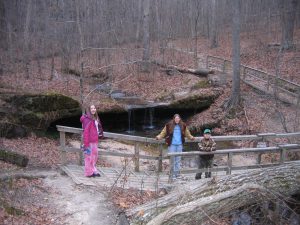 This 180 acre area, located near Farmington, Missouri, is a deep, forested gorge that features unique rock formations, seasonal waterfalls, bluff overlooks, and shallow caves. Pickle Springs is named after William Pickle, a European immigrant who acquired the land in 1848. According to local legend, he was shot by a band of renegades during the civil war. The land was designated a National Natural Landmark in 1974 and is maintained by the East Ozark Audubon Society in cooperation with the Missouri Department of Conservation. The cool, moist conditions offers a variety of plant and animal life, many rare to the state including hay-scented fern, large whorled pogonia, ground cedar, livertworts, blooming wild azaleas, cinnamon ferns, four-toed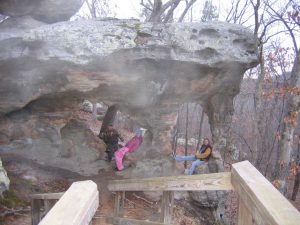 salamandars, pickerel frogs, and southern leopard frogs. The Lamotte sandstone in the area has been carved into hoodoos (mound or pillar-like sandstone blocks weathered into unusual shapes), arches (including the double arches), canyons, and caves.
Things to Know:
The 1.9 mile 'Trail Through Time' includes some steep climbs, but is kid and dog friendly. It can be busy during the weekends. The trail is NOT handicap accessible.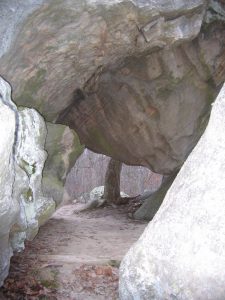 Amenities:
None. Visit a restroom and purchase water prior to visiting.Small parking lot provides access to the site.
Trails:
The trail is a 1.9 mile hiking trail through the woods, across bridges, and over rocks. It includes some steep climbs and is rated at moderate. Open every day from dawn to dusk.
Trail Map
How to get there:
Pickle Springs Natural Area is located 7 miles east of Farmington, MO and 18 miles west off Highway 55 Exit 154.
From Highway 55 Exit 154, Turn right on State Road O for 6 miles. Then take Highway 32 West for 10.5 miles, turning left on State Hwy AA. Proceed 1.6 miles and turn left onto Dorlac Road. Parking lot will be on the right in 0.4 miles.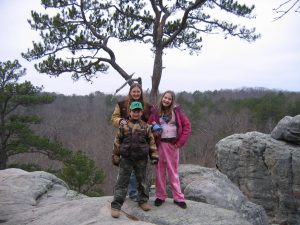 From Farmington, take Highway 32 East for 5 miles. Turn right on State Hwy AA. Proceed 1.6 miles and turn left onto Dorlac Road. Parking lot will be on the right in 0.4 miles.
Fees: Admission is free
Time to enjoy: 1-2 hours
Roadtrip: Day-trip, StLouis-MO-Sikestone-MO-segment
Tags: hiking, scenic-overlook
https://nature.mdc.mo.gov/discover-nature/places/pickle-springs