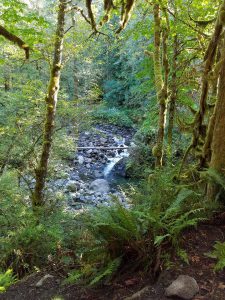 The state of Washington is full of breathtaking beauty with literally 100's of State Parks boasting scenic views, hiking trails, mountain bike trails, camping, fishing, etc.  It truly is an outdoor enthusiast paradise.  While on a recent visit to see my daughter who is currently living in Everett, Washington, we ventured out on Highway 2 with a goal to hit the touristy town of Leavenworth.  On the way, we stopped for a hike at Wallace Falls State Park and were not disappointed.
Wallace Falls State Park, WA
Located on the west side of the Cascade Mountains, this 1,380 acre park is home to 12 miles of hiking trails,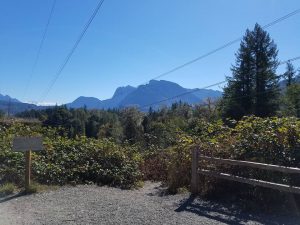 walk-in tent sites, five cabins, and backcountry camping.  It has shoreline on the Wallace River, Wallace Lake, Jay Lake, and Shaw Lake.  The park is named for it's 265-foot waterfall and trails wind through old-growth coniferous forests.  The name Wallace is derived from Kwayaylsh, surname of the first homesteaders in the area.
Things to Know:
Woody trail to the falls includes some steep climbs, but is kid and dog friendly (dogs must be leashed).  There is an alternative, longer railroad grade path available for some of the hike.  It can be busy during the weekends and parking can be difficult.  Best time to go is during the week or early in the day.  The trail is NOT handicap accessible.  Both day passes and annual passes can be purchased on site.  There is a kiosk available near the trailhead.
Amenities:
The park provides two kitchen shelters without electricity, picnic tables, flush toilets at the Woody Trailhead, and a relatively small parking lot.  There is a small store on site as well, but was not open when we were there during the week on September 26th.
Trails: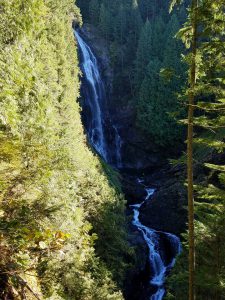 The Woody trail is a 5.5-mile out and back hiking trail through the woods, across bridges, and over rocks and tree roots.  It includes some steep climbs and is rated at moderate. Open every day from 8am to dusk.  You can reach the lower falls in about 2.1 miles, or go all the way to the upper falls in 2.75 miles.
Trail Map:
http://parks.state.wa.us/DocumentCenter/Home/View/1960
How to get there:
From I-5 north of Seattle, take Highway 2 east towards the town of Gold Bar.  Turn left onto 1st street (there is a sign for the park on the side of the road.  The actual street sign is difficult to read).  Drive about 0.4 miles and take a right at the stop sign (May Creek Road).  Continue on May Creek Road about 1.3 miles, taking a left at the Y-junction.  Parking lot will be on the right shortly up the road.
Fees:  Admission requires a Discovery Pass ($10 day pass, $30 annual pass)
Time to enjoy:  3-4 hours
Roadtrip:  Day-trip, Everett-WA-Leavenworth-WA-segment
Tags:  hiking, scenic-overlook, waterfall