My oldest daughter lives in St Louis where she's planning to go to grad school.  Recently, I drove down from Stoughton, Wisconsin to spend a weekend with her.  We decided to get a cabin near Eureka, Missouri and check out the area.
Are you looking for some things to do around St Louis?  Read on and hear our experiences!
I arrived in St Louis late afternoon on a Thursday, so we decided to find some place to eat.  We wanted to try somewhere we had not been, so upon further investigation, we settled on The Shaved Duck on the south side of St Louis.
The location is in a residential neighborhood in a building that used to be a grocery store.  Known for their Barbeque, Folk, and Soul, and featured on Diner's, Drive-ins, and Dives, we just had to try it.  "Real Deal BBQ, but yet kinda different"
All meat is smoked in house with hand cut fries and homemade sides to die for – like sautéed Brussel Sprouts – YUM!  I ordered the Slow Smoked Duck Breast (how could I not?) and my daughter had the Pulled Pork Sandwich.  My duck was tender, tasty, and smoked to perfection.  My daughter enjoyed her meal as well.
The venue is interesting, if not a bit crowded.  We had a noisy table right next to us (why do some people not realize how loud they
talk?), so that was a little disruptive to the experience, but all and all we had a good time.  The live music was nice.  The craft beer selection could have been better (too many IPAs for my taste – why do they have to have several?).
Overall, I recommend this place while in St Louis.  I'll definitely go back again.  Besides, they had bathrooms for Humans – no dogmatism here – what's not to like?
Ok, so the craft beer selection wasn't that great at The Shaved Duck, and I've been dreaming about the Peanut Butter Chocolate Milk Stout (now named Absence of Light) from 4Hands, so we head over there next.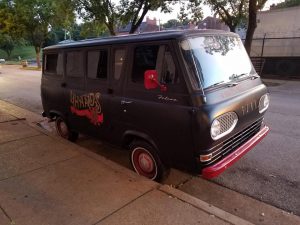 It turns out Absence of Light is only available during the winter months (November through February), so I'll have to settle on something else (dang!).  Thankfully, that's not too hard, because they have some really great craft beers!
I order the Pecan Pie Oatmeal Brown (YUM!) while my daughter orders the City Wide Pils since she is still full from dinner.  We enjoyed our beers and conversation since it was a quiet evening at the brewery.
We bought some Cast Iron Oatmeal Stout for the cabin along with their On Cue, a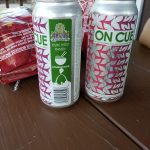 gose brewed with pink Himalayan sea salt, cucumbers and hibiscus flowers.  This was a very interesting, refreshing beer that was kind of like a summer cocktail and kind of like a summer beer.
2 thumbs up!  But then, it's craft beer…   always a good thing!
On our way to the cabin, we stumbled upon Route 66 State Park and decided to check it out.  I've been wanting to drive the historic Route 66 route (aka The Mother Road) for some time now – hopefully will get to go this fall if things work out.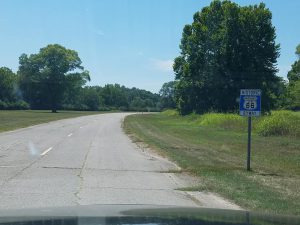 This particular state park is 400+ acres on the site of the former town of Times Beach, Missouri on the Meramac River.  The visitor's center is the former Bridgehead Inn which was a roadhouse built in 1935 right on the original Route 66.
The visitor's center has a small but interesting museum that describes the rise and fall of Times Beach (it was contaminated by toxic oil sprayed on its gravel roads and then flooded by the Meramac River) as well as many Route 66 history and artifacts.  There is also an extensive gift shop with many souvenir items to choose from.
The route to actually see the park is a bit convoluted because the Route 66 bridge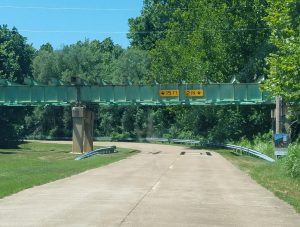 that connects the visitor's center with the rest of the park was condemned in 2009 by the Missouri department of transportation.
The funds to restore the bridge are being raised, but in the meantime, in order to see the park, you have to continue down I-44 West to the next exit (for Eureka and MO-109), turn around and get back on I-44 East and take the very next exit for Williams Road, turning left on S Outer Road into the park.
The park is mainly made up of grassy and wooded areas with picnic tables, bike trails, a playground, and some nature trails.  We started out on a path to walk the perimeter of the park along the river, but it was very hot (over 100 degrees F) and our little dog, Izzy couldn't handle it.
To be honest, if the view of the river wasn't great, us humans weren't going to go the entire way today anyways.  My daughter went on ahead to get the Expedition's A/C running while I sat with Izzy in the shade to try to cool her down.
Back in the cool A/C and a drink of water later, Izzy perked back up as we made the drive through the park.  A fairly standard 'natural area' with not much in the way of scenery – I don't really see a need to return other than to stop at the visitor's center on my way back tracing 'The Mother Road'.
Recommended to stop at the Visitor's Center and maybe to set foot on the small strip of the original Route 66 if you're passing through the area.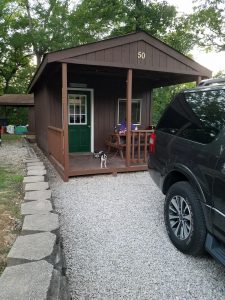 Our cabin for the weekend (Fri-Mon) was at Jellystone Park Resort just outside of the Six Flags Amusement Park near Eureka, MO.
The park is up on a hillside with windy roads (5 ½ miles per hour) and is packed with RV sites, cabins, cottages, and tent sites.  It includes a Ranger Station, a large Concession Stand and Gift Shop, a Party Room, a small arcade, a swimming pool, mini-golf course, and bonfire area.
Our little one-room cabin had two three-tier bunk beds (one had a double bed on the bottom), a full-size refrigerator, a microwave, satellite TV, free wi-fi, and window A/C.  Outside was a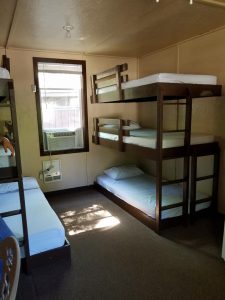 picnic table on a small porch, a charcoal grill, and a small fire pit.
The flush restrooms and showers were just a short walk from our cabin.  The site included a gravel area where two small cars (or one large Expedition) could park.  A drinking water faucet was located on the edge of the next site.
Overall, this is a great family place to come and stay while in the area or visiting Six Flags.  Even though we were two adults and a dog, we enjoyed our stay here and would stay again.  It would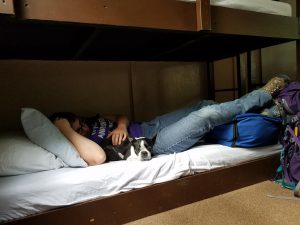 be great for several families or a group as there are plenty of family activities to enjoy.
I would recommend this place to others looking for a comfortable place to 'camp' with most of the modern conveniences of a hotel stay.  Just a little over 30 minutes from downtown St Louis, it would make a perfect little 'getaway'.
Three miles north of Jellystone is Greensfelder County Park and some of the best hiking, mountain biking, and horse trail riding in the area.  Consisting of 1,734 acres, the park is part of the Henry Shaw Ozark Corridor – a 25 mile chain of conservation areas along I-44 and the Meramac River.
After online research, we decided to hike the Eagle Valley Trail – a 4.5 mile loop through the woods that is shared between hikers, mountain bikers, and horseback riders.
Our first mission was to find the visitor's center near the start of the trail.  The GPS did not find it and the signs within the park were lacking.  The main entrance sign had a small parking area, but no facilities (turned out to be the start of the scenic drive).  Further down the road was another trailhead turnout with no sign (Green Rock Trailhead).
Finally, the next stop included the Visitor's Center where we were hoping to find maps and restrooms.  The doors were open, but no one was staffing the center on this Saturday morning.  There were also no maps available until we found one tacked to a door jamb.
We weren't about to head out on an unknown trail without a map, so we took that one with the intent to return it.  We walked around the building looking for restrooms (supposedly lower level?), but ended up using a very sketchy outhouse full of spiders…   YUCK.
On the trail, we encountered some mountain bikes and horses as well as a few other hikers.  Overall, it was not heavily trafficked while we were there.  A few intersections were not well marked.  We avoided one wrong turn thanks to some horseback riders but took a wrong turn near the equestrian parking lot that took us a bit out of the way.
The trail map we had did not show road crossings (there were a couple), so it was difficult to get our bearings based on that.  We managed to figure it out in the end and all in all enjoyed the hike very much.  The cool forest was a welcome break from the hot sun!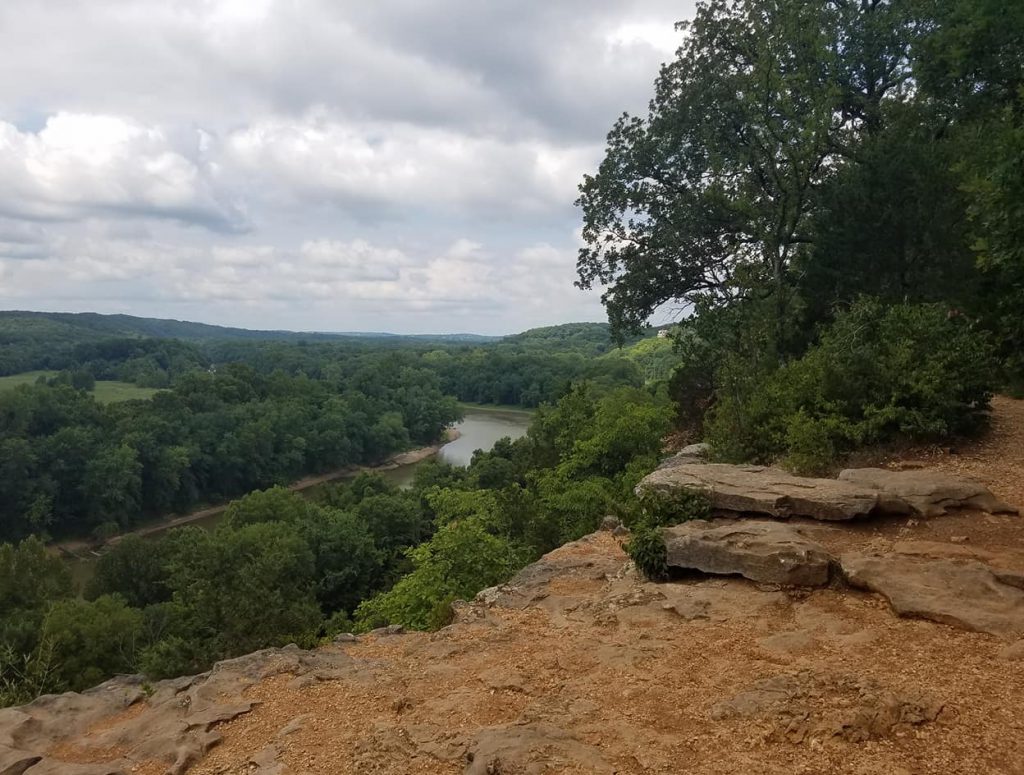 Sunday morning, we drove to Castlewood State Park to check it out.  The park is the site of an old resort area, a popular tourist attraction in the early 1900's.  Stretching for nearly 5 miles, its 1,818 acres straddles both sides of the Meramac River and is good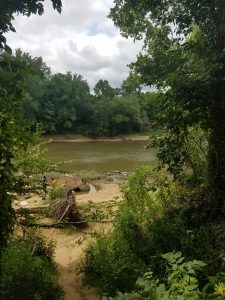 for hiking, mountain biking, picnics, swimming, and horseback riding
The park was busy when we arrived, with full parking lots.  We joined the many cars parked on the roadside within a circle drive area and walked back to the visitor's center, which was closed.  Strange to me for a summer Sunday…  Trail maps were available (although not very clear!), so we picked one up.
We decide on the River Scene Trail Loop which is the most scenic of all of the trails.  It is also one of the most popular, so there are many people (and mountain bikes!) on this trail.  However, the forested hillside and abundance of side jaunts makes for an enjoyable hike.
We proceeded counter-clockwise which, unbeknownst to us ended up being the smart way around.  We followed the Red blazes up the hillside which had a fairly steep uphill grade to the top of the bluffs.  The trail follows the edge providing many scenic overlooks.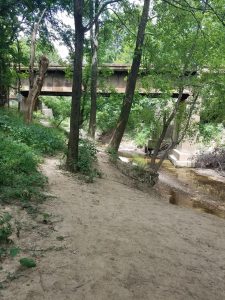 At the end of the bluff, many (many!) wooden stairs descend down to the river valley.  I'd much rather go down these steps than up!  Passing through a tunnel under the train trestle, the trail follows the river past a swimming/picnic area and is fairly level.  There is a lot of sand on the peninsula!
Somewhere along the line, we missed a turn and ended up where Keifer Creek enters the Meramac River (a really cool spot!).  Heading up to the railroad tracks, we run into 'no trespassing' signs which tell us we made a wrong turn…
Looking at the fuzzy map, we know we need to cross the railroad tracks again, so we follow a small deer trail along the tracks knowing that eventually we will find the crossing.  We stumble upon the main trail again and make our way to the park road that passes under the tracks.  Trail maps are not always the best!
After returning to the Expedition, we take a drive through the park looking for where the staircase ruins are that were referenced in the park overview.  We never did see them, but after further research discovered they were supposedly viewable from the River Scene Trail…   Hmm…  that's poor signage for you!
Even with all of the people in this popular park, I would highly recommend this trail if you're in the area or visiting St Louis.  It's a beautiful spot only 35 minutes from downtown St Louis!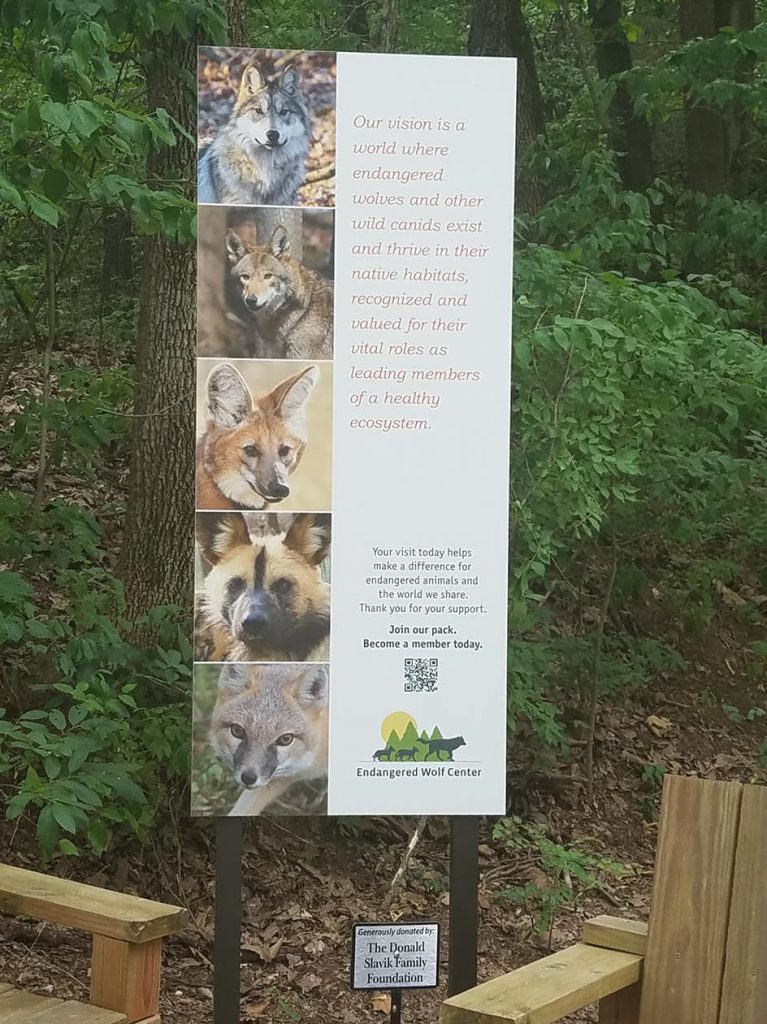 Our last notable place we experienced was the Endangered Wolf Center.  Founded in 1971 by Marlin Perkins (host of Mutual of Omaha's Wild Kingdom – one of my favorite TV shows as a kid!) and a group of other individuals with a focus on addressing the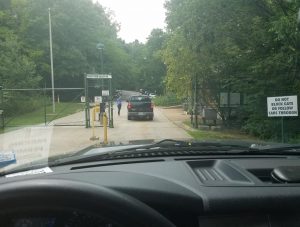 issue of wolves at risk of extinction.
Wolves are essential to a thriving ecosystem, keeping prey populations in check and driving behavioral patterns that allow plants and habitat to continually rejuvenate.  The 63 acre center has carefully managed breeding programs and innovative methods for introducing releasable wolves into native habitats, thereby restoring critical balance.
The center's educational and partnership programs aspire to teach people how to coexist with these large predators.  In general, wolves are greatly misunderstood and unnecessarily feared as a threat to humans and livestock.  Helping farmers and ranchers employ various tools for protecting livestock is the most effective way to manage reintroduction.
While the center was founded for wolves, its role covers all endangered canids, including African Painted Dogs, Swift Foxes, and Fennec Foxes.  Every Mexican gray wolf in the wild can trace his or her roots back to the center.  Red Wolves, once pervasive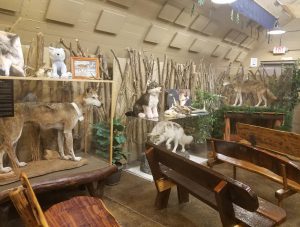 throughout the US, and South American Maned Wolves are also a focus.
The center is non-profit and offers adoption packages to sponsor animals.  It also offers tours (must register ahead of time), camps, events, and overnight campouts.  We registered for the Endangered PredaTour, which is an hour long.
Upon arriving to the center, we encountered a military-style gate at the entrance.  The attendant checked with us and then let us in.  The tour began in the gift shop which offers many items, including paintings by the resident canids!
The tour was educational, informative, and entertaining.  We watched a short video/presentation and then visited some of the animal enclosures where we were able to observe some of the residents.  The best was from a raised platform that provided a view into a red wolf and maned wolf enclosure.
We even got to spot a fennec wolf in the window of the infirmary where it was recuperating from allergies (who knew?).  Very cute!
I definitely recommend taking a tour of this facility or even participating in one of its events or programs.  A very worthwhile cause and a great way to expand your understanding of the world around us!
I hope you enjoyed this itinerary and get a chance to try it out!  If you've been to the area and want to chime in or if I missed something on your 'must do' list, please let me know in the comments below!
Also – if you're looking for help planning a weekend near you or your next great adventure, let us know by contacting us here!
As always, thanks for reading!
Kristi, aka The Trippy Tripster