Recently, my boyfriend and I had a plan to spend a couple of days in Two Harbors, Minnesota with my mom and step-dad to celebrate their 20th wedding anniversary.  We decided to break up the drive a bit and spend some time exploring northern Wisconsin on our way.
One of our favorite stops was Copper Falls State Park, an unexpected natural wonder in north central Wisconsin.
Looking for more reasons to visit this amazing area?  Read on to hear what we discovered!
What is It?
Copper Falls State Park is over 3,000 acres of forest protecting sections of the Bad River and its tributary Tyler Forks River which flow through and join into canyons 60-100 feet deep.  It also includes three waterfalls, two lakes, 17 miles of hiking trails, biking & cross country ski trails, a sandy beach, camping, and picnic areas.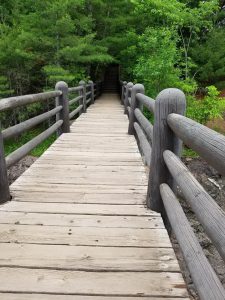 Created in 1929, the parks initial trails and bridges to the falls were built in 1920 & 1921 by returning WWI veterans, followed by the Civilian Conservation Corps and Works Progress Administration in the 1930's and 40's who also built all of the log structures on the site.
There are 57 campsites at the park, 24 electric, and one backpacking campsite.  The sites are wooded, mostly level, with some separation between them.  Facilities include showers, flush & pit toilets, drinking water, and a dump station.
Two one-way mountain bike and cross-country ski trails are in the park, the Vahtera Trail and the Takesson Trail.  Dogs are only allowed on the Red Granite Falls Trail, an under-appreciated, but great 2.5 mile hike.
The North Country National Scenic Trail has 4 miles of trail included in this park.  Just a small portion of a 4,600 mile trail stretches over 7 states from the middle of North Dakota to the border of Vermont & New York.  Bucket List!!
The three waterfalls are viewed via two main trails, the Doughboys Trail and the lesser trafficked 2.5-mile Red Granite Falls Trail.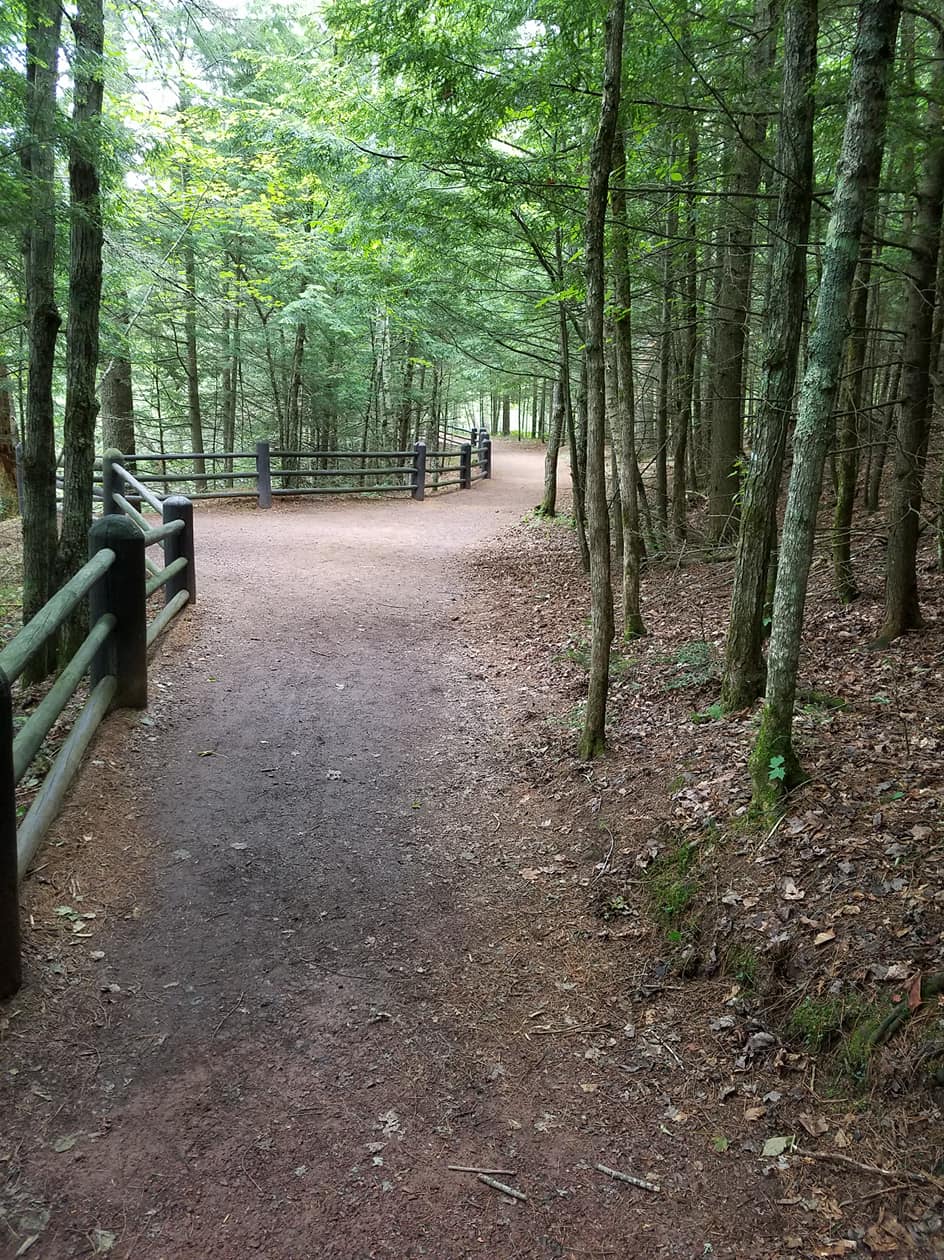 The Doughboys Trail is a relatively easy 1.7-mile trail through the woods and across bridges with viewpoints of Copper Falls, Devil's Gate, Brownstone Falls, and the Cascades.  There are some stairs with rest stops and ½ mile of the trail is wheelchair accessible.  A 1-mile spur off the trail leads to the Observation tower.  At 65 feet, it provides views of Lake Superior, Apostle Islands, and surrounding Penokee Range on a clear day.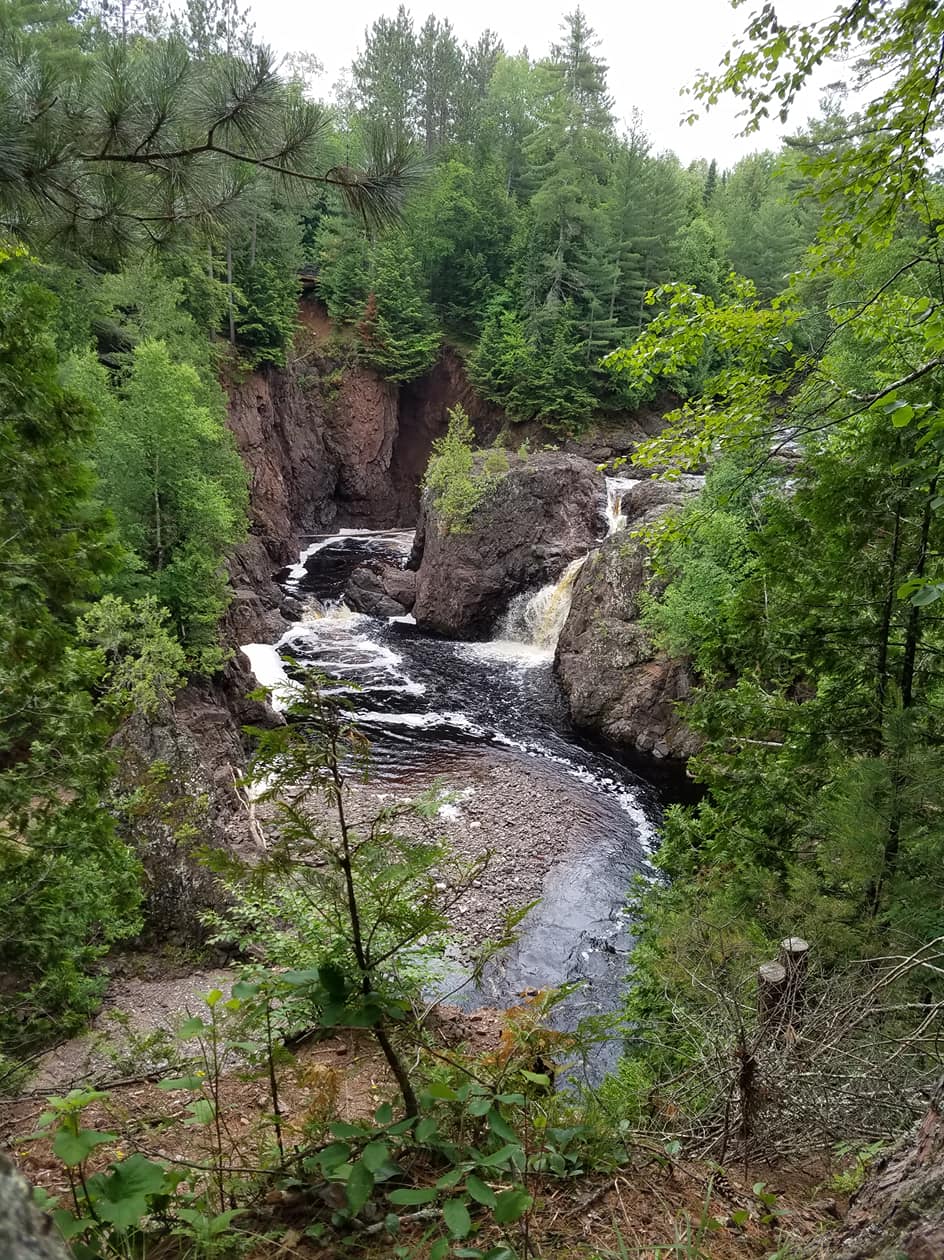 Copper Falls is a 29-foot drop of the Bad River as it falls into the steep-walled canyons.  The rivers here are a dark brown due to the iron-rich rock sediments they flow through.  Brownstone Falls is where the Tyler Forks Tributary joins the Bad River in the canyons.  The 60-100 foot gorges and Devil's Gate was formed where the rivers carved a passage through the black and red lava, sandstone, shale, granite, and conglomerate rock formed by ancient volcanos and glaciers.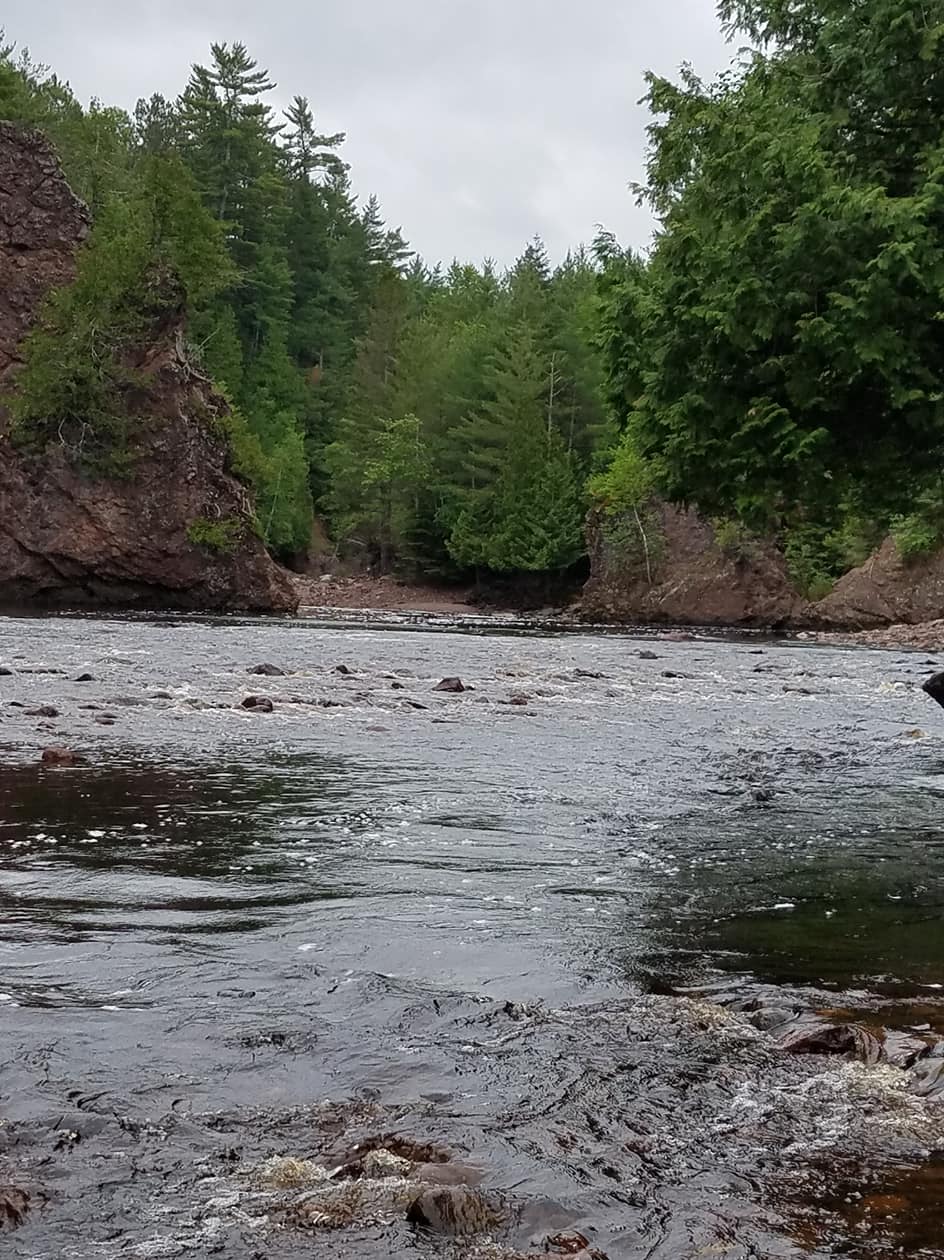 Near the trail head for Doughboys Trail is a staffed concession stand with supplies (including insect spray which is recommended on the trails!), ice cream, burgers, and hot dogs.  The even serve pancakes on Sunday mornings!  The area includes 5 acres of picnic area and a playground.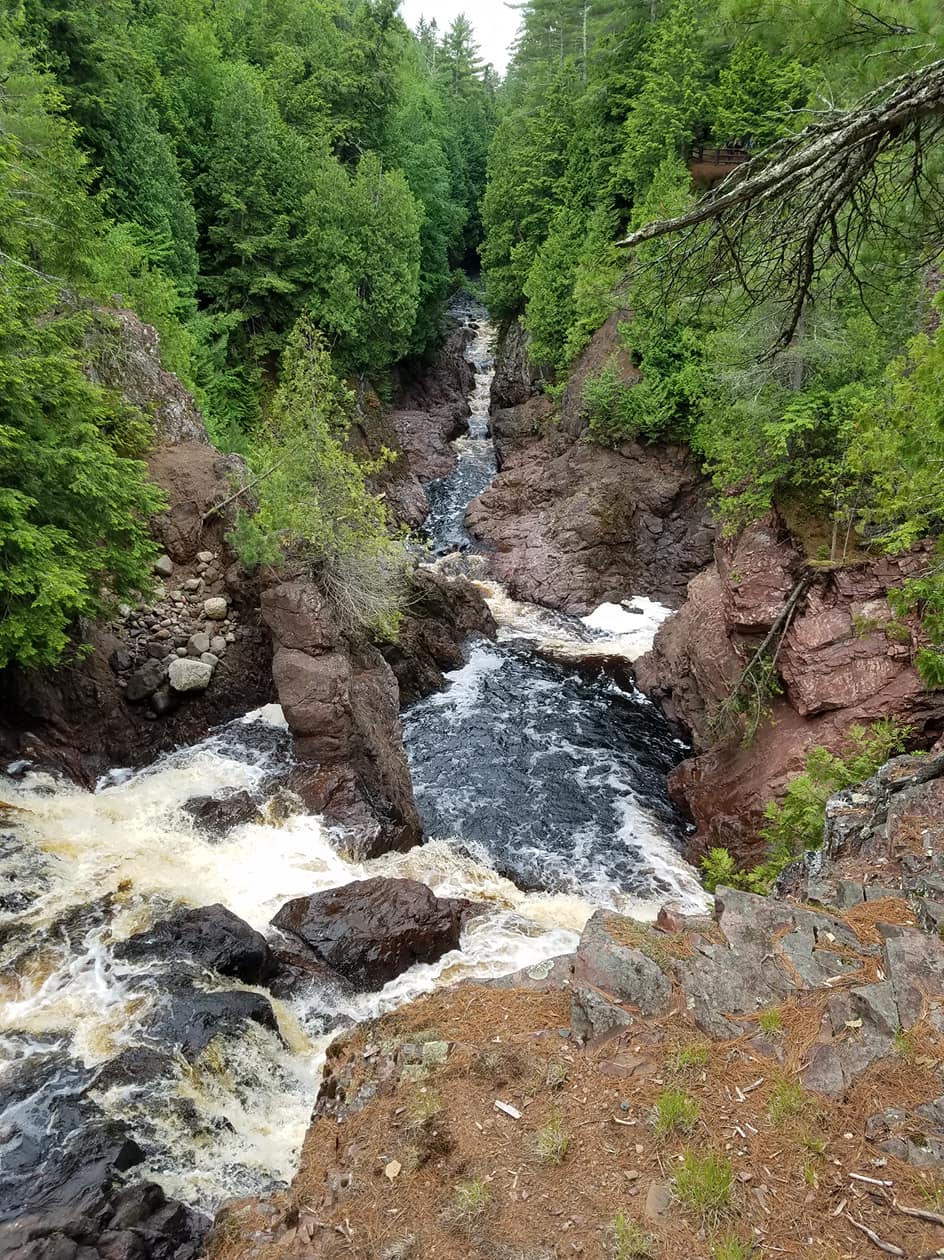 Near the entrance to the park is Loon Lake with a 300-foot sand beach and a canoe/kayak launch.  In the lake you can fish for northern pike, largemouth bass, and panfish.  The 8.5 miles of river in the park also have brown, rainbow, and brook trout.  No gas motors are allowed here.
Wildlife that live in the park include deer, fishers, black bears, raccoons, chipmunks, skunks, red & gray squirrels, gray wolves, porcupines, and elk.  When visiting, you are asked to carry out what you carry in and use animal-proof storage for your food.
We really enjoyed the Doughboys Trail on our brief visit and definitely recommend a stop – especially if you are in the area!  We are planning to come back to camp and spend more time exploring this amazing park.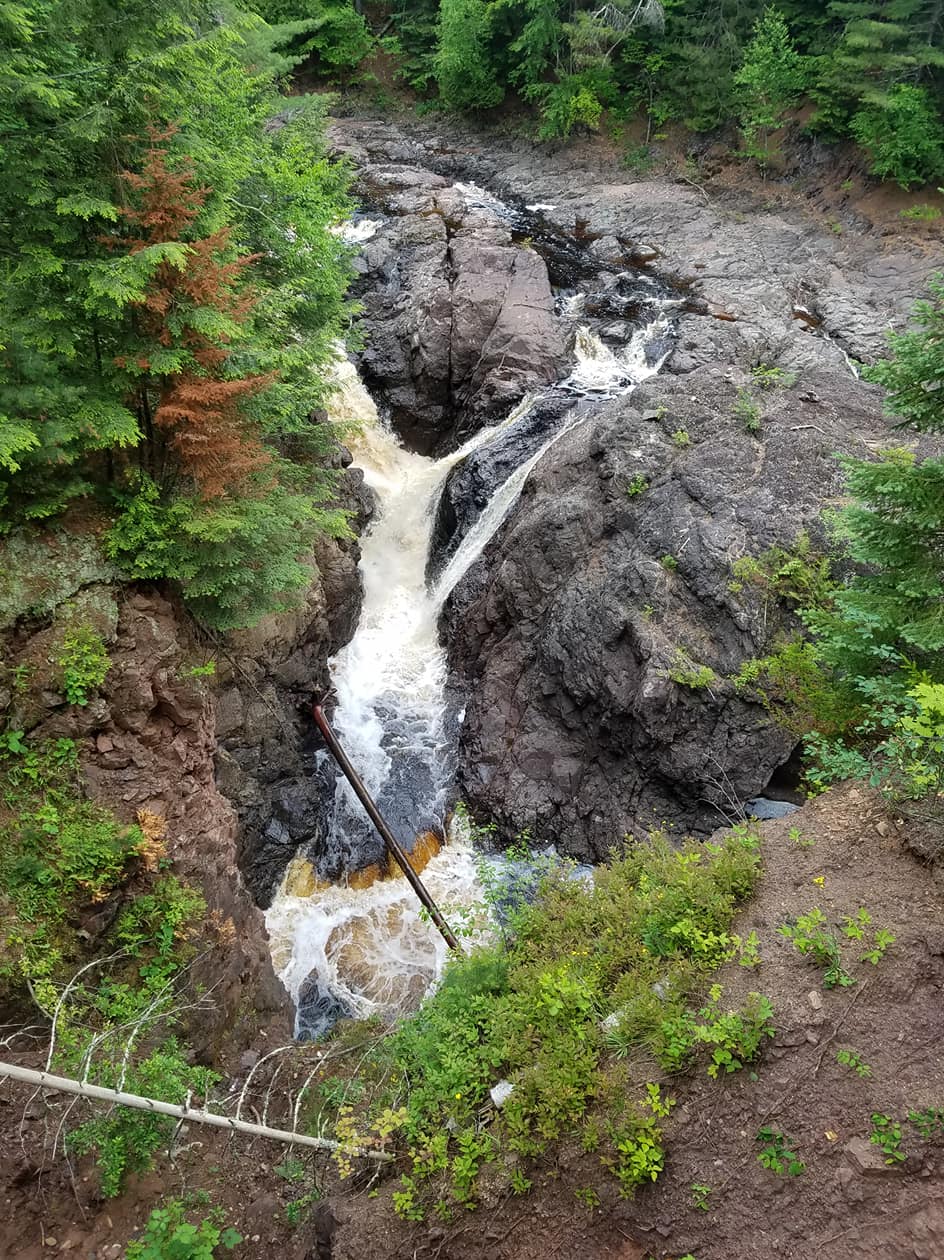 Click here for a map of the park
Are you looking for some recommendations on what to do in your area?  Have you scheduled your next weekend adventure and need help planning?  Contact us today! It's never too early to start.
Have other ideas on how to find time for road trips or adventures?  Please comment below and let us know!
As always, thanks for reading!
Kristi, aka the Trippy Tripster